INQ Mini 3G: Detailed Review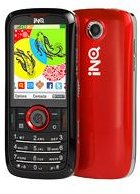 INQ Mini 3G
The INQ Mini 3G is a product from a relatively new company called INQ. The company has produced only three models of cell phones so far. By the looks of their work so far, the INQ Company aspires to be a cell phone manufacturer concentrated on producing cheap (but packed with connectivity) cell phones. They have a cool Website and offer great support. This phone is built for instant messaging, email, VoIP and social networking which makes it appealing for young dynamic people. The main purpose of this phone is social networking and it has a lot of features that will help you stay in touch with all of your friends. To find out if the INQ Mini 3G is worth having read this detailed review of its features and characteristics.
Design (3 out of 5)
The phone has a simple design, nothing new that you haven't seen before. The order of the buttons follows the best design for easy usage and fast access to every control. One big plus is the colored back of the phone that matches the color of the ring around the joystick on the front which makes it more visually appealing. The design of the INQ Mini 3G makes it a phone that fits well in your hand and even writing an SMS with only one hand is easy. The INQ Mini 3G is 102.9 x 45.8 x 12.8 mm in size and weighs 90 g. It has a TFT display which can show 256 K colors and it has a resolution of 240 x 320 pixels and size of 2.2 inches. Another great plus is the variety of colors that this phone comes in.
User Interface (4 out of 5)
The INQ Mini 3G runs Brew OS which is the same Brew platform that the HTC Smart and Chat 3G use. The keys are easy to press and are very responsive. Using the menu is very intuitive and the set of icons that the INQ Mini 3G employs has been well designed and consists of easily recognizable icons. There are a lot of options in the menu with custom shortcuts for Facebook, Twitter and Skype, which makes using these services easy and fast.
To read more about the great features of the INQ Mini 3G read on to the next page….
INQ Mini 3G review continued
The INQ Mini 3G is a cheap cell phone that offers great connectivity and even greater options for social networking. But the lack of experience of the INQ Company that built this phone makes it hard for them to compete with the other well established cell phone manufacturers. Read on to find out if the INQ Mini 3G is worth investing in.
Features (5 out of 5)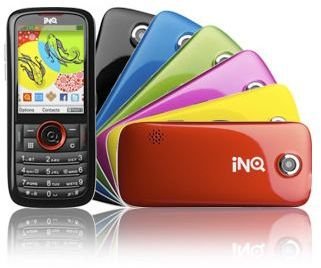 The INQ Mini 3G has a lot of great features like 2G GSM 900 / 1800 / 1900, 3G HSDPA 2100, GPRS Class 10 (4+1/3+2 slots), 32 - 48 kbps, EDGE Class 10, 236.8 kbps, Bluetooth v2.0 with A2DP, miniUSB v2.0 but no GPS and Wi-Fi connectivity. It has 50 MB of internal memory and an expansion slot for a microSD memory card up to 4 GB. It has a 2 MP camera that can take pictures at 1600 x 1200 pixels and can record video. Other features of the INQ Mini 3G are SMS, MMS, email messaging, WAP2.0 / xHTML Browser and Java MIDP 2.0 support. It has Facebook, Skype, Twitter applications and integration. The INQ Mini 3G has an MP3/WAV/eAAC+ audio player and an MP4/H.263/H.264 video player. It has a standard Li-Ion 1150 mAh battery that is good for up to 260 hours of standby and 3 hours and 30 minutes of talk time.
Performance (3 out of 5)
The performance ratings of the INQ Mini 3G are average. The controls are responsive, but there is a bit of lag when starting the music or video player which is expected for a phone from the budget arena. Other issues are the bad performance of the battery and the poor quality of recording.
Verdict (3 out of 5)
The INQ Mini 3G is a great phone for social networking. The built in applications for Facebook, Twitter and Skype make it a very cheap alternative to the powerful and expensive smartphones on the market. But the lack of Wi-Fi connectivity is a big disadvantage. To make a decision you have to take into consideration the price per performance ratio for the INQ Mini 3G which is pretty high. So if you want a cheap phone with great options for Facebook, Twitter and Skype connectivity then the INQ Mini 3G is a good choice. To find out how two of the best phones measure up against each other read this comparison of iPhone 4 vs BlackBerry.