Introduction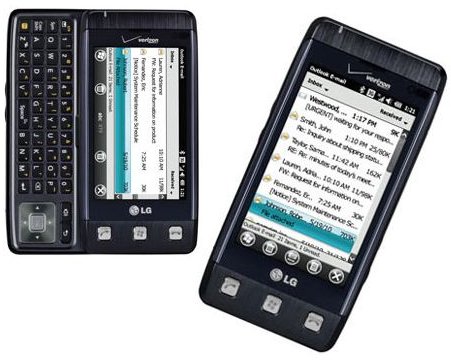 When smartphones first began production, they were intended almost purely for business people. Not so anymore, as Samsung put it so succinctly, "Smart Phones for Every One!" Unfortunately the LG Fathom feels like a phone from an age long past in the history of smartphones. Which is surprising considering it was only released last year, and as per the long standing tradition with Microsoft, it was a child of bad timing.
With the advent of Windows Phone 7 and other easier and much more intuitive OS's such as Android and WebOS, there is almost no reason to buy the LG Fathom, except it is one of the few phones that is truly capable of international roaming, so if you need a cheap smartphone with a physical QWERTY keyboard for an emergency trip across the globe, then maybe you should consider the LG Fathom.
Design (3 out of 5)
The first thing to notice about the LG Fathom is that it is one ugly looking phone, it looks like a black burnt brick.
Although it's made entirely of plastic, it's rather well built, parts fit well and there is no creak or loose parts such as battery cover, stylus, etc. At the front we have the 3.2 inch TFT resistive screen, with 480 x 800 pixels and support for 265,000 colors.
Then we have the Call, Home and End Call physical buttons which depress into the phone when pressed. Above the screen is the light sensor and proximity sensor.
The phone is on the heavy side at 152 g and not necessarily palm friendly with dimensions of 115 x 56 x 17 mm.
On the left side we have the easy enough to press volume rocker, 3.5 mm head phone jack, and shared microUSB/charging port. Right side consists of the camera shutter key, Multitask button and hot swappable microSD card slot. At the back we have the 3.2 MP camera lens, the most well hidden stylus I have ever seen and the loudspeaker grill. Pop open the back cover and you see the battery, underneath the battery you find a lock mechanism to fit a SIM card into.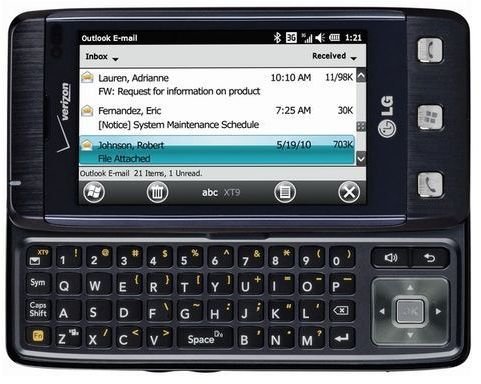 Now for the final part, the QWERTY keyboard. Flip the phone over into landscape mode (left side) and slide it up, you'll hear a solid click sound as the QWERTY reveals itself in its full four-row glory. You have a dedicated number row, a four-way directional pad with a golden OK button in the middle, a sound toggle and back button.
The entire keyboard is straight, which makes typing a bit uncomfortable, the keys are also a bit smallish for thick fingered people and they are almost completely flat. It gets worse as travel is minimal so leisurely typing will prove to be irritating after a while.
User Interface (3 out of 5)
The LG Fathom comes with Windows 6.5.3, which is better than the original 6.5, icons are much bigger, there is a bit more logic to feature placements and shortcuts are much easier to access. Plus it has much improved multitasking capabilities and a few more customization options, though all they do is change the color (a horrible Purple and Orange mix) the overall placement and look of the UI stays the same.
The entire UI would have felt smooth to use if the screen was capacitive, with a resistive screen it is a bit difficult to tell. But once you get used to pressing the screen slightly harder, the entire operation feels smooth and there are no real lags.
You are presented with a list of shortcuts on the home screen which you can toggle and re-arrange as you see fit, at the bottom you have the Starter icon, Dialer icon and oddly enough the Alarm shortcut. Tapping the Starter icon pulls up your list of apps and features, which you have to diagonally scroll through to get to the app you want.
The phonebook has unlimited capacity and features photo calling, you can sync contacts with Outlook and set reminders, multiple field entries is of course a foregone conclusion, apparently when Windows made WinMo 6.5 they assumed business people did not use Facebook or Twitter, as a result there is no native social networking integration, you'll need to download the appropriate apps.
Messaging consists of SMS, MMS, E-mail and IM, there is a small and comfortable on-screen QWERTY in portrait mode, once the phone is flipped over you have to use the physical QWERTY. Messaging has no Swype or handwriting options, which renders the stylus pointless. As a matter of fact there is almost no area in the phone where you might need to use the stylus, I guess it's just there for…style.
On a final note, the phone does have an accelerometer, but transitions take about 2 seconds to kick in and they are snappy and very sharp, in short the transition effects are horrible and slow.
Features (4 out of 5)
The phone might feel retro, but the specs are definitely new age.
First lets us take into consideration the only truly good reason to purchase the LG Fathom, its international roaming capabilities. The phone is a dual CDMA/GSM high speed data phone, in the U.S. it uses the following frequencies; 800, 1900 and EVDO rev.A for high speed connectivity. Internationally the phones uses GSM 850, 900, 1800, 1900 and HSDPA 850, 900, 1900, 2100 (HSDPA 7.2 Mbit/s) for high speed connectivity. Local connectivity is catered for by Bluetooth 2.1 with EDR and AD2P, Wi-Fi and microUSB 2.0.
The CPU is also very new age in terms of power, the Fathom has a 1 GHz Scorpion processor, Adreno 200 GPU and a Qualcomm QSD8250 Snapdragon chipset, internally the phone has of 256MB RAM and a 512 MB ROM. You are expected to provide your own GB's of external storage, the phone supports up to 16 GB of either microSD or microSDHC.
The camera is a 3.15 MP auto-focus snapper with 2048×1536 pixels resolution and 20 FPS of 640×480 in MP4 quality video. The interface is both simple and pleasurable to use, a slightly modified version of the LG S-Class UI. Also the camera comes with plenty of options such as resolution adjustment, image quality, ISO, sense modes, color effects, etc.
Unfortunately it seems like the processor simply goes on strike whenever the camera is turned on, it takes almost a total of ten seconds to take a picture, the autofocus is tortoise fast (took 5 seconds to focus properly) and the snap and save feature took nearly four seconds. Don't try taking a snapshot of anything that moves faster then a snail. Picture quality on the other hand is fair, in the outdoors pictures tend to be good with some softness around the edges and an apparent lack of saturation, indoor pictures in full lighting conditions turn out very good, they're clear and have no blurring or softness issues. There is no flash so night time shooting is a no-no.
The video quality is good enough on a phone screen but starts to show massive amounts of pixelation and box effects on a large screen (PC or TV), so overall just stick to only shooting emergency videos.
All media files are handled by Windows Media Player, which does a fair job of playing both movies and music files. Supported video files are MP4 and WMV, while supported musical formats consist of MP3, WAV, eAAC+ and WMA. The good thing about Windows Media player is that it integrates very well with the home screen, so controlling your tunes right from the home screen is a breeze. Videos at 720×304 resolution play without any hiccups or lags, anything above that starts to show lag, but as a whole the video player is excellent. The only downer here is lack of XVID/DIVX support, it would have truly complimented the phone.
The following is a list of miscellaneous but important features; Adobe Lite, Flash Lite 3.0, GPS (A-GPS),Document viewer/editor, Organizer, Voice memo/dial/commands, Predictive text input, Visual Voice Mail, Mobile Email, Mobile IM, City ID, and VZ Navigator.
Performance (3 out of 5)
We have arrived at the pinnacle of our review, were we check the phone's call quality, web browser and battery life.
If you were hoping for a dual CDMA/GSM phone with great call quality, sadly you're in for an unpleasant surprise. Callers sound mechanical or frigid and your own voice echos constantly throughout calls, areas with low coverage produce a white noise like effect during calls. The call quality on the LG Fathom does not do its CDMA/GSM capabilities justice.
The Explorer web browser is actually not too bad, but it has two fundamental problems, first its text reflow is completely out of sync, so when you scroll text tends to lag on one end. Second problem is that the Flash Lite 3 does not automatically resize itself to the screen, so unless you use the zoom button you'll be seeing only half the video, also heavy Flash websites tend to induce the "Out of Memory" message. It just easier to download and use Opera Mini.
Battery life, on the other hand, does perform well enough, it has a Li-Po 1500 mAh battery, and can easily provide 7 hours of talk time. Also heavy gamers or video watchers can expect the phone to last about 8 hours, so you don't need to live in fear of the battery failing in the middle of your 15 hour flight across the world, but just to be safe, please carry a traveling charger.
Verdict (2 out of 5)
To be honest the LG Fathom has very little going for it, a year ago maybe it would have been worth the buy, but the times have left it far, far behind.
The new WP7 renders this phone defunct, the call quality renders the dual CDMA/GSM feature pointless, the sluggish response during photo sessions renders the 3.2 camera void, the phone is hell bent on ruining itself. To be honest there are many better phones out there, if nothing else you may consider buying the LG Ally (Android), a cousin to the Fathom.
There is only one plausible reason to buy the Fathom, you're in a hurry and all your contacts and information is synced with Windows, you need a cheap WinMo phone with a physical QWERTY keyboard. Otherwise bide your time and shop around, there are plenty of better options out there.
References
Cnet, www.cnet.com
GSM Arena, www.gsmarena.com
Phone Arena, www.phonearena.com
Image credit: www.mobilecrunch.com
Image credit: www.areacellphone.com