Review of the Griffin AirCurve: a Stand and Acoustic Amplifier for the iPhone
Overview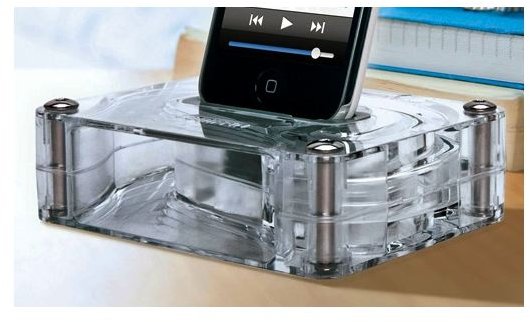 Since getting my iPhone, I have been looking for a way to listen to music without the use of headphones. The low volume of the built in speakers made it difficult to listen anywhere besides a perfectly quiet room. I considered getting a dock and speaker system but never quite found one that met my needs at a reasonable price.
While browsing the Griffin website, I came across the Griffin AirCurve and was immediately intrigued. According to the specifications, this stand amplifies the volume of the built in speakers by up to 10 decibels without any power. After reading several reviews, I decided to pick one up to try out for myself.
Design and Functionality (4 out of 5)
Upon opening the box, I was immediately struck by the size of the stand. Its compact size and lightweight design make it ideal for tossing in a travel bag to take on the road. This coupled with the fact that no power is needed make it perfect for use just about anywhere.
In addition to its portable design, I was impressed with the look and feel of the product. It is well constructed and made completely from a hard plastic material that is both solid and pleasing to the eye. Included in the package are two rubber adapters for both the original iPhone and the new iPhone 3G and 3GS. A charging cable for the iPhone is not included but Griffin does sell a separate cable that can charge the iPhone while it is docked.
Overall, I am extremely happy with my purchase and think this product from Griffin will make a great gift for any iPhone user.
Usefulness and Overall Value (5 out of 5)
Besides its portability, perhaps the best thing about this acoustic amplifier is its low price of $19.99. While I realize that it is little more than a piece of hard plastic, the fact that it works exactly as advertised makes it a great value at its suggested retail price.
With the built in iPod functionality and applications like Pandora and Public Radio, the iPhone is perfect for listening to music or news to get me through the work day. The Griffin AirCurve has made this experience even better by allowing me to listen without always having to wear headphones.
Image Credit
AirCurve image courtesy of the Griffin. https://www.griffintechnology.com/