iPhone Apps Review: Read It Later iPhone App Review
Read It Later Features (4 out of 5)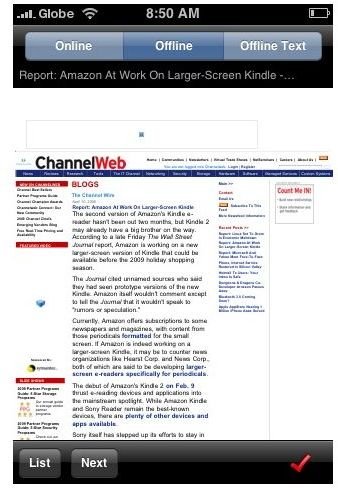 This iPhone app is the mobile version of an equally useful desktop app that does the same thing - allows you to save pages for reading offline. For its iPhone version, the app has both a free and a paid version.
The free Read It Later app lets you view a full website even without data connection; sync your reading list with your PC and other devices; view websites minus the images; sort your reading list by date, title and site name; filter your list by title, site and tags; and save your last page position when reading an article.
The paid version of Read It Later app has all those features with the addition of a bookmarklet that lets you save links from the iPhone Safari browser, a sharing tool for posting articles to other bookmarking sites and a full screen browse mode. The full screen mode gives you a bigger screen real estate, useful for reading articles with photos. You get these extra features if you are willing to pay $2.99 for the paid version of the app.
Our Verdict (3 out of 5)
While there may be other equally efficient and useful bookmarking tool available in the iTunes apps store, Read It Later banks on its desktop application which was proved to be a robust and efficient site bookmarking/saving tool. We could definitely say the same for the app's iPhone iteration.
Read It Later is simple, straightforward and has less of the eye candy of most iPhone apps. That works well for the app since the most important thing for a productivity app is if it able to do what it promises to do. For Read It Later, that is to let you save pages, links, and articles that you can read later even when your iPhone is offline. Undoubtedly, Read It Later does it well.
If, after reading our review, you decide to download and install the app on your iPhone, be sure to read the instructions for setting up the app to save your reading list in offline mode. It took me quite awhile to set it up but once you've done it correctly, you can start saving pages and enjoy reading it later when you have a spare time.
Image credit:
Screenshot of Read It Later app by Idea Shower.