Griffin iTalk Recorder Review: A Useful and Free App for Recording Sounds on Your iPhone
What Does Griffin's iTalk Recorder Do?
iTalk Recorder is a fancy little app that lets you record conversations, short sound clips, and practically any sound around you that you want to record for playback later on. As soon as you installed the app, you need to set some options first to make your recording activity as fruitful as possible. First you need to enter a recording name. Something that would identify what you have recorded for easy retrieval later on. And second, you need to specify the recording quality that is Good, Better, Best.
That's it, as soon as you've set these two options up, you just press the red button and you can start talking to record your voice, or put your iPhone near a radio to record a newscast or any sound that you want to record. When you're done recording, just press the button again, which if you noticed has now turned into green. After recording, tap on the Done button and the app will bring you to the list of recordings you've done. Tapping on a particular recording will bring up the play arrow button and you can listen to what you have recorded.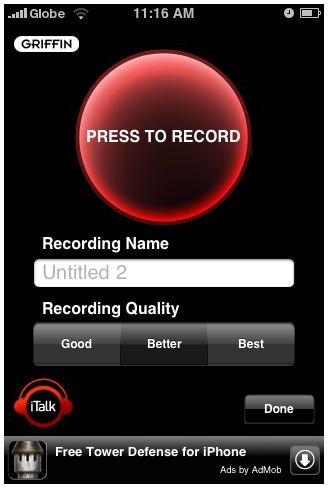 As an additional feature, you can also add some text notes to your recordings and pause/resume and append to a recording to an existing recordings that you have already done. You can also sync your recording to your PC using italksync. It will let you play your recordings on your PC as a high-quality AIFF files via Wi-Fi connection.
One last notable feature of iTalk Recorder is the Quick Recorder Mode which lets you start recording as quickly as you launch the application.
Final Verdict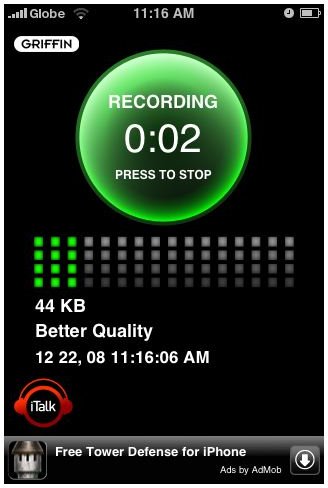 If you have a need for a portable recorder whether for your work or other purposes, the iTalk Recorder would definitely come in handy to have on your iPhone. Or if you are fond of recording sounds that you encounter in your daily life, this application adds value to your iPhone's already many uses. And the fact that this is a free makes iTalk Recorder a must-download iPhone app. But that is if your iPhone can still manage some more applications being installed.