iPhone App Review: iTranslate Turns your iPhone into a Personal Translator
Introduction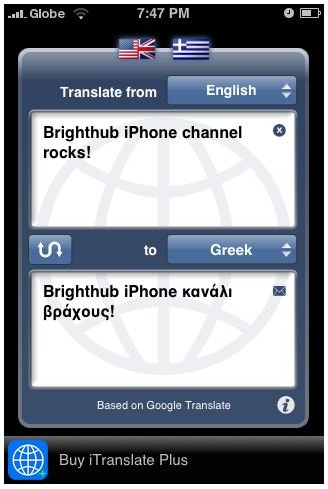 In the old days, whenever we travel it's a must that we bring along a bi-lingual dictionary to get us through basic conversation with the locals of our country of destination. Well, those days are over with the help of the iPhone apps called iTranslate. One of Google's mobile products, iTranslate is a free iPhone app that lets you translate any text into 33 languages. If you're familiar with Google's web translator, you will quickly see how iTranslate was based on that product.
What are the Features of iTranslate?
iTranslate features a well-designed user interface that suits well with the iPhone's screen. You can easily switch from one language to another easily with the use of a pull-down menu. One good thing about iTranslate is the fact that it doesn't entail too much data charges since the app uses a small amount of data.
This iPhone app also lets you keep track of the previous texts which you have translated already. You can easily go back at these texts and then translate them to another language. It stays in your iPhone's memory so you don't have to enter the texts again. It gets more fun whenever you are trying to communicate with someone in a foreign country. You can let them enter what they want to say in their language and then you translate it on your own language. It's like having a personal translator with you. Just make sure though that the person you are talking to won't rush away with your iPhone.
iTranslate supports the following languages, Arabic, Bulgarian, Chinese Simplified, Chinese Traditional, Croatian, Czech Danish, Dutch, English, Finnish, French and even more.
Our Verdict
Provided that the data charges of the country where you will be going won't be that costly, iTranslate could be a very useful application and would definitely make your iPhone very useful when you travel. It transforms your iPhone into a pocket dictionary without you needing to spend anything. It's a free iPhone app, so go ahead and install it on your iPhone now. Hopefully, Apple finds a way to tweak the iPhone to support copy and paste of text as this will certainly be a good combination with iTranslate.