Setting up Voicemail
It is always handy to have your voicemail set up to catch a message from a missed call and with all recent versions the iPhone voicemail will already be set up, but if you're using an older version you will need to do this:
Go to Phone > Voicemail.
Follow the on screen prompts.
Depending on which version of the iPhone you have you may be prompted to enter a password.
If you're having any problems with this part you just need to call your service provider and ask them to make sure the forwarding feature to forward calls to your voicemail is turned on.
Create Custom Greetings
If you're tired of the bog standard iPhone voicemail greeting, it's simple to create your own custom iPhone voicemail greeting in less than a minute.
Go to Phone > Voicemail > Greeting.
Custom.
Press Record to record message, once done tap Stop.
To listen to your custom greeting tap Play.
Once you have it just right tap Save.
Remember you can change this as often as you like, and you always have the option of the default greeting.
See and listen to Voicemail

One of the great things about iPhone voicemail is that you'll be notified when you have a new voicemail and it will display the number you still have to listen to. This appears on your Phone option and then on Voicemail option when you tap into it.
When you get a new message that has not been listened to you can tell this by the blue dot to the left of it.
You can clearly see the number, or contact if you have it saved, of who has left a voicemail.
To listen to Voicemail
Tap the voicemail you want to listen to.
Tap the triangle play symbol which appears.
To pause tap the triangle play symbol again, and again to finish playing.
Put it on loudspeaker tap Speaker to the top right of the screen.
Easily return the call by tapping Call Back.
Deleting Voicemail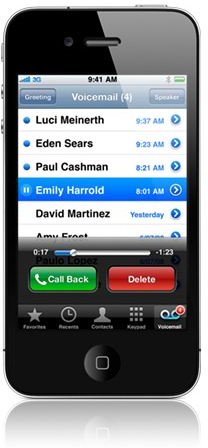 To delete a message
Just tap the message to select it and tap Delete.
Deleting a message by mistake
If you delete a message by mistake just tap Deleted Messages at the bottom of your voicemail list, select Undelete and it will be placed back with your other voicemail.
Added Options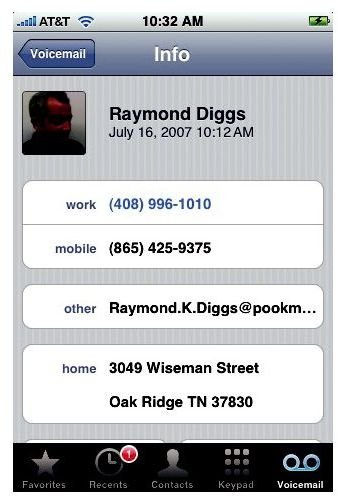 You'll see a > sign next to each voicemail, tap this and you'll be given all the information you have on that contact and be able to reply by whichever means you choose.
If you do not have the contact saved you'll be given the options to call, save the number or add it to an existing contact, text or share the contact.
Hopefully this iPhone Voicemail guide will have you set up and taking full advantage of the great features available to you!