Email Set Up
If you're setting up your mail account on your iPhone for the first time, it's very simple.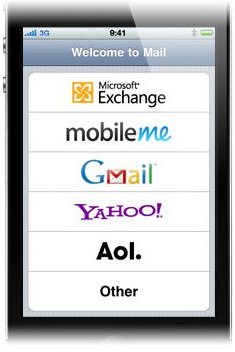 Tap Mail.
Select account type from the menu to the left, if it doesn't show tap 'Other'.
Enter your account details and tap 'Save'.
If any additional information is needed you will be prompted, but the mail setup configures most email accounts automatically.
For adding additional email accounts tap Settings > Mail, Contacts, Calendars > Add Account.
Basic Troubleshooting Tips
Here are some basic troubleshooting tips that may help you solve iPhone email problems.
Check your Connection
Check the signal indicator at the top of the screen, if there are no bars or a 'No Service' indicator try waiting 10 minutes or move to another location until the service returns and the 'E' is visible next to your signal bars. If you're connecting with Wi-Fi, check the service and if unable to connect turn off the Wi-Fi by tapping Settings > Wi-Fi and use your operator network data connection.
It is also important to check your iPhone is not in Airplane mode by tapping Settings > Airplane Mode should be 'off'.
Set up Mail via iPhone
Many users have experienced problems having synced their email via iTunes, this is because email settings may vary between the media used to access them, i.e. laptop, desktop, mobile phone. If you have synced your email this way and are experiencing problems try deleting the affected email account by tapping Settings > Mail, Contacts, Calendars > Tap affected account > Delete. Now set up from beginning.
Multi Device Lock Out
Whilst this isn't a common problem, Apple recommend that if you tend to access your email from different devices you may actually 'lock out' your email which stops your new mail coming through to your iPhone. The solution for this is to increase the interval your mail is refreshed. To change this you tap Settings > Mail, Contacts, Calendar > Fetch New Data.
Check SMPT Server Settings
For outgoing mail your iPhone will use a primary server but sometimes this can be unsuccessful which is why you will need to check your other SMTP server is enabled. To check this just go to Settings > Mail, Contacts, Calender > (your affected email address) > SMPT > Check 'Other Server' is 'On'.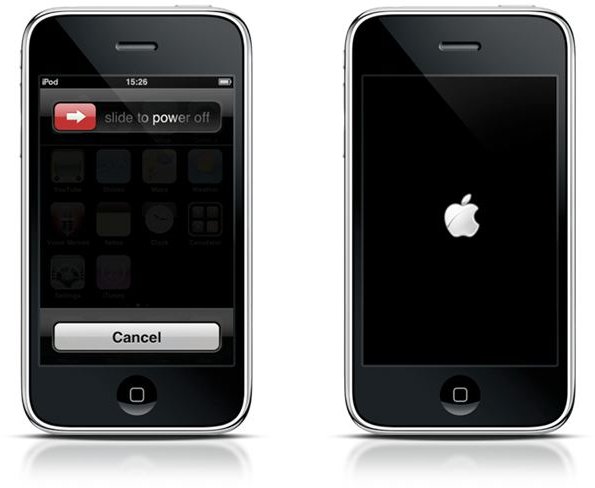 Restart iPhone
To restart your iPhone just press and hold the top right sleep button until the red slider appears, slide your finger across and wait for five minutes. To switch back on press and hold the sleep button again and once you have a strong coverage signal try mail again.
Specific iPhone Email Problems
Our basic troubleshooting tips work for almost every iPhone email issue, but here are more specific iPhone email problems and their fixes.
Cannot Send / Receive Email
Using Outlook
If you are using Outlook, you should know it is renowned for being problematic with iPhones. Follow these steps if you have synced your mail and you are having problems.
Delete all email accounts.
Reset Network Settings by tapping Settings > General > Reset > Reset Network Settings.
Manually add the emails accounts with Wi-Fi disabled.
Disable email syncing with iTunes.
iPhone will not pick up email using correct option in configuration
There's no known reason why this happens, but if your email will not connect or update, you've tried the basic troubleshooting tips and it has been configured as one of the options on the start mail menu, the best solution is to delete the affected email account and when configuring again choose 'Other'. In the configuration this should automatically update the required information and resolve the issue.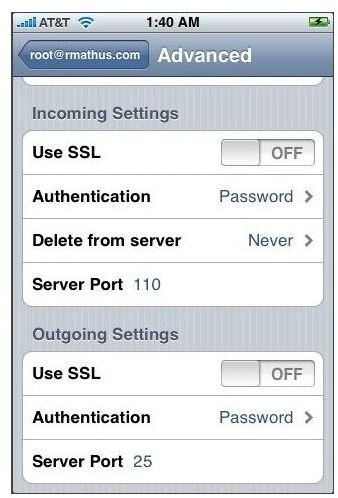 Error 'Cannot Connect Via SSL'
This will sometimes occur when you've deleted an email acount and configured your POP account. You will be asked at this point if you want to set up without SSL and you must select 'yes'. Next tap settings for the account you've just created then 'Advanced'. You must ensure that on the incoming and outgoing settings 'Use SSL' is set to 'off'.
Next under incoming and outgoing settings select password and that is everything set up.
Mail Box Frozen
Recent Software Update
This is usual after an iPhone software upgrade, a quick fix for this is tap Mail > hold down home button for 6 seconds (application will close, this is normal) > Restart Mail. This fix has been known to work in the majority of cases but if it doesn't, use the fix for using Outlook.
'Last Updated' Messages Not Refreshing
Just restart your iPhone and this should resolve on switching back on.
Blank Screen / Spinning Icon Stuck when Checking Email
If you've tried the aforementioned troubleshooting fixes with no luck the last option is to do a software reset. Hold down the sleep/wake button and home button simultaneously for 10 seconds, or until you see the Apple logo sign. When this icon appears the reset is complete and you should be able to go back and access your email.
Hopefully these solutions will help you solve your iPhone email problems.