I recently took a long road trip with my wife and decided to buy a couple of game apps from the iTunes App Store so we could play them on my iPod Touch while travelling. After buying the apps, I noticed that they would not sync in iTunes no matter how many times I ejected and unplugged my iPod. I eventually figured out how to fix the problem and got all my apps synced, and in this article I'll walk you through the steps in case your iPod or iPhone iTunes apps do not sync.
Check for Updates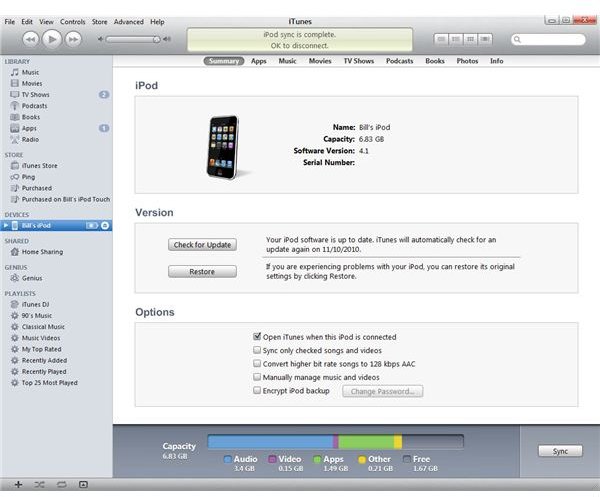 Any time you are having a problem with iTunes or your iPod, iPhone, or iPad, the first thing you should do is check for program or firmware updates. Apple regularly updates their software and you should make sure you have the latest updates, especially if something isn't working properly.
To update iTunes, just open iTunes and then go to Help in the top menu and choose 'Check for Updates'. Many computers are configured to automatically prompt you for iTunes and Quicktime updates even without running the software, so if your PC has been asking you to install those updates, you should do so.
To update your iPod Touch, iPhone, or iPad, open iTunes and then connect your device. Once connected, iTunes will periodically check for firmware updates, but you can manually check by clicking the 'Check for Updates' button on the main screen under the Devices section.
(Image credit: Screenshot taken from author's PC. Serial number digitally removed for security purposes)
Check Device Compatibility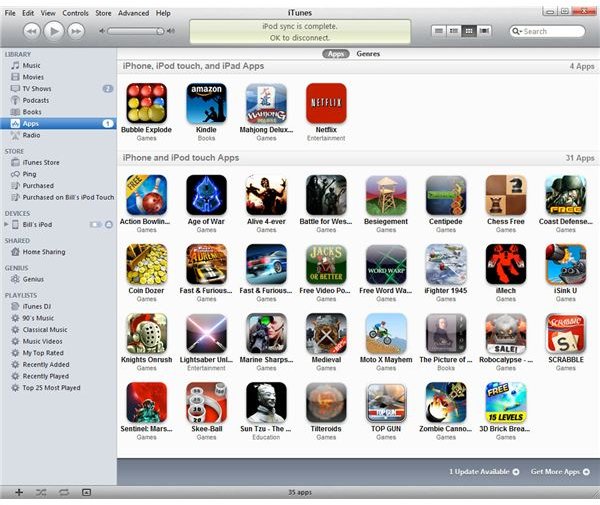 Now that apps made specifically for the iPad can be found on iTunes, you have to be careful when shopping around the App Store that you don't accidentally download an iPad-only app for your iPhone or iPod Touch because it will not work. When you go to the App Store in iTunes, at the very top of the window you will see two buttons that say iPhone and iPad. Make sure you have the appropriate one selected before shopping for apps, otherwise you may inadvertently buy an iPad app that won't work with your iPhone or iPod Touch.
Another way to check app compatibility is to open iTunes and then click on the Apps selection under Library. It will show a list of all the apps you have downloaded and they will be classified by compatibility. For example, apps like Kindle and Netflix will show under 'iPhone, iPod Touch, and iPad Apps' because they work on all three. Underneath there you will see (in the example graphic) that iPhone and iPod Touch apps show in their own section. This means those apps were designed for use on the iPhone and iPod Touch. I don't own an iPad, so there are no iPad-only apps shown here.
(Image credit: Screenshot taken from author's PC.)
Reset Sync History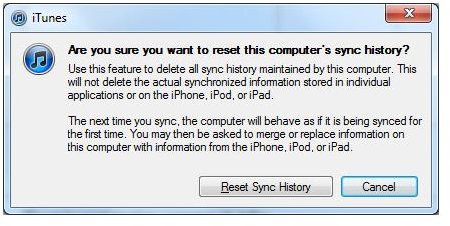 On my own iPod Touch, I had the latest firmware and also was running the latest version of iTunes, plus my apps were not made just for the iPad. What I ended up having to do was reset the sync history in order to force iTunes to treat my iPod Touch like it was being synced for the first time. Here are the steps to reset your sync history:
Open iTunes.
Connect your iPhone or iPod Touch.
Go to Edit – Preferences.
Click the Devices tab.
Select the most recent backup under Device Backups.
Click the Reset Sync History button.
When prompted with the warning message, click the Reset Sync History button.
This method takes a while to perform because it flushes out the iPod Touch and then resynchronizes all of the music, movies, and apps. However, it did fix the problem and all of my apps synced properly.
For more information, be sure to read my article on backing up your iTunes library for transfer to another computer.