How to Synch your iPhone Calendar with Yahoo Calendar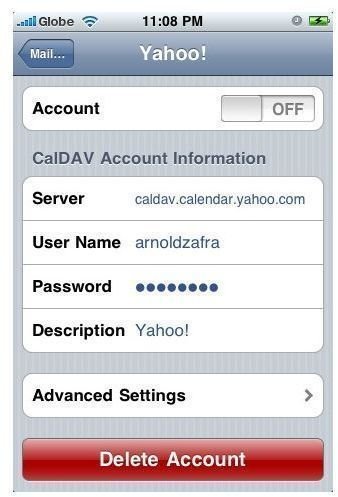 How to Sync Your iPhone Calendar with Yahoo Calendar
Synching the iPhone Calendar with other web-based calendar services is not an easy task to do. It entails several configuration steps that are quite confusing if you've not done it before. I could personally attest experiencing difficulty when I tried synching my iPhone Calendar with some of these web-based Calendar services. Among these calendar services is Yahoo Calendar.
Recently, Yahoo has made it possible to sync the iPhone Calendar with their web-based Yahoo Calendar service. The feature was rolled out in conjunction with the release of the new Yahoo Calendar 2.0, which is currently in beta. The process is simple and easy. Once you've set it up, automatic synching will be done every time your iPhone is connected to the Internet.
Are you ready to sync your iPhone Calendar with your Yahoo Calendar account? Before you start synching, make sure that your iPhone is running OS 3.0 or higher. Synching the iPhone Calendar to Yahoo uses the CalDAV standard. And once you've successfully synched these calendars, Yahoo will automatically shift your Calendar account to the new Yahoo Calendar 2.0. That means you won't be able to go back to the older version anymore.
Procedures for Synching Your iPhone Calendar with Yahoo Calendar
Synching your iPhone Calendar to Yahoo Calendar is done over-the-air. Here are the steps that you need to do to start synching your iPhone Calendar with Yahoo Calendar.
Go to iPhone settings
Select "Mail Contacts, Calendars"
Select the "Add Account Option"
Select the "Other" option
Select "Add CalDAV Account"
Type Yahoo in the "Server" field
Type in your Yahoo username and password
Click Save
Once you've done all these steps. Your iPhone Calendar will be automatically synched with your Yahoo Calendar. That means that you can update your Calendar either from your iPhone or from the Yahoo calendar site. You don't have to update them both to reflect the changes. A word of advice before you start tinkering with your iPhone to sync it with your Yahoo Calendar. If you will actively use your iPhone's Calendar app you will be incurring data charges when it syncs with your Yahoo Calendar. Synching your iPhone Calendar to Yahoo Calendar is practically going online through your network provider. So, be cautious when you check you Calendar since it is utilizing your mobile data plans' air-time allocation.
Image credit
Screenshot of iPhone Calendar Setting by Apple.