Licking Letters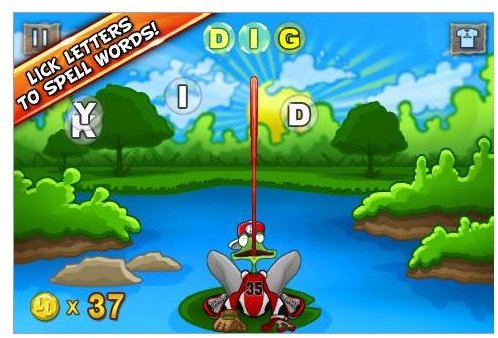 What is the premise of this game? To help Hoppy the frog lick letters as they float across the screen and learn how to spell words in the process.
Who is this app for? This app is a fun, educational spelling app for children ages 2-8 years old. My son is five and it is the perfect age appropriate game that will help him learn how to spell.
How does it work? With the help of a frog named Hoppy, children will learn how to spell over 150 words by having Hoppy the frog eat the correct letters they are told to. Once they have accomplished their task they are rewarded by receiving coins. They can use the coins to buy different outfits and accessories for Hoppy. The more words you spell correctly, the more coins you receive. You can spend the coins right away or wait and save them up for later.
What are some unique features? My favorite feature of this app is the mini games and challenges for the children. Once they spell three words correctly they will be able to play a mini game to collect even more coins. My son loves this game and so do I — the graphics are amazing. It's simple for a five year old to play by themselves and it's a great educational game — what more can a parent ask for! It is well worth the $0.99 price tag.
Build a Word Express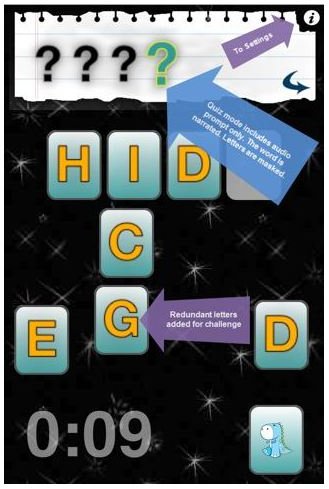 What is the premise of this game? To spell a word by using the sounds of the letters or the name of the letters.
Who is this app for? The developer says it's for children as young as three years old but I would say the average preschool/kindergarten age child would be more accurate.
How does this app work? You have the option to play in practice mode which uses visual and audio prompts to help your child spell the word, or quiz mode which is harder and only uses audio prompts. You also choose to spell the word using the sound of the letter or the name of the letter. I found that for my five year old I adjusted the setting to practice mode and used the name of the letter when first introducing the game to him.
What are some of the stand out features? Some of the features that stood out to me was the ability for the child to receive immediate feedback when clicking on a right or wrong letter. If they didn't have this feature I think my son would not have been able to continue with the game. Another great feature was the option to choose the mode of the game to suit your child's ability in the settings menu. Not every child is on the same level and this company understands that.
I found the interface to be simple and non-distracting for a child. For a free app it is definitely worth the download.
Super Why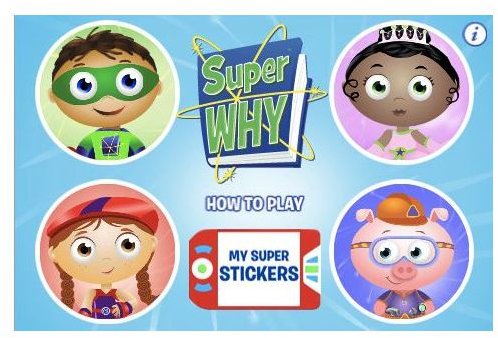 What is the premise of this app? To help your child read and spell with the Super Why characters.
Who is this app for? Like the TV show, this app is geared toward preschool/kindergarten age children who are just learning to read and spell words.
How does this app work? There are four games for your child to choose from: Alpha Pigs Lickety Letter Hunt, Wonder Reds Rhyming Game, Super Whys Story Saver and the spelling game I will focus on, Princess Prestos Wands-Up Writing. In this game Princess Presto uses her magical wand to help your child spell a word. She tells you a sound of a letter to find and if you guess it correctly she will say the letter and you have to trace it with your finger. Once you have completed the word she will show you a picture of the word and you earn a sticker.
Super Why is a bit costly for $2.99 but it has a lot to offer. This is a feature-packed app that will keep your child entertained for hours. The functionality is excellent, while the graphics and interface are well above average. I would recommend downloading this app if your child loves Super Why for the simple fact that it's a fun, educational app and they will learn to read and spell in the meantime.
Overall Best App Goes to….
Licking Letters. for $0.99 you get an app that your child can manipulate by themselves, that functions correctly and has an amazing interface. The other two spelling games for kids are also great. The only reason I didn't choose Super Why is because of the hefty price tag. Any of these apple iPhone spelling apps will teach your child to spell in a fun, educational way. Try them all out and let me know what you think in the comments.
References
Licking Letters – https://itunes.apple.com/us/app/licking-letters/id431550762?mt=8
Build A Word Express – https://itunes.apple.com/us/app/build-a-word-express-practice/id445774924?mt=8
Super Why – https://itunes.apple.com/us/app/super-why!/id357422351?mt=8
All screen shots remain the sole property of the respected developers.