Having a calendar with all of your events, plans, birthdays and other scheduled events on your iPhone is a great idea. Taking the time and effort to re-enter all of those events into the iPhone using the touch screen after you have already done it on your computer is a pain. The difficulty is that if you use Microsoft Works Calendar there's no direct way to sync it with your iPhone.
First Step to Syncing your Works Calendar
The first step in syncing the Microsoft Works Calendar with the iPhone is to find and use the calendar. If you've already done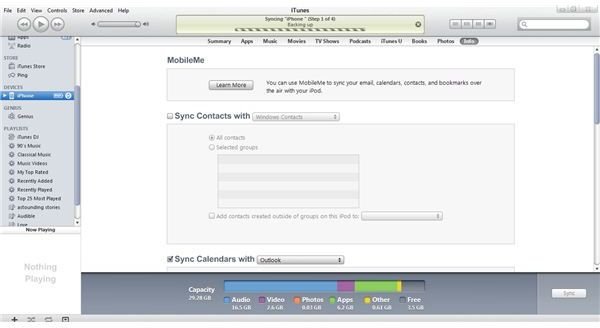 that you can skip this step. If you have not then to discover if you have the program you will want to open the start menu on your computer and type works. If you have Microsoft Works then one of the top options should be the calendar. Once you've found it simply click on it and you'll bring up the calendar. This should let you enter any information you want to put into the calendar easily. Syncing is not easy though, so if you haven't already used this you'll probably be better off choosing something different.
If you are lucky then the most difficult work is done. Simply plug in your iPhone and open iTunes. Once this is done you will want to locate your phone on the left hand side menu. If you click on this you will go to the control panel for the phone. Along the top are a number of tabs. The last tab should be Info. Click on this and you'll be brought to a list of a few choices. Mobile Me and Contacts will be tops, but just below that is Calendars. If it is on the list you can simply move it. This has been reported to work, but it did not for me, making moving the calendar indirectly the only option.
Using Outlook to Sync Microsoft Calendar with iPhone
The good news for the iPhone user is that Microsoft Outlook does sync with the iPhone and it can import calendars from Works. The bad news, of course, is that Outlook is part of Office and if you don't have it this is not an inexpensive program. Except that if all you need to do is sync your calendar then the 60 day trial is free and it includes Outlook.
Simply go to Microsoft's website and find the 60 day free trial of Microsoft Office and download it. This isn't a tiny download and will probably take at least an hour. You will then install it, making sure to mark Outlook as one of the programs you want to install.
Migrating Calendar to Outlook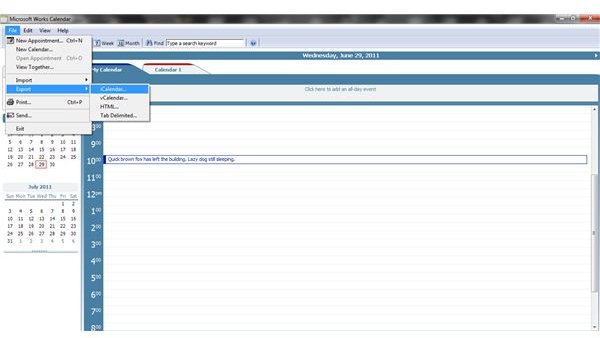 Once you have Outlook on your computer you will need to open Microsoft Works Calendar. Go to the Files menu and choose export. You will then want to choose export as iCalendar. Make sure to choose dates that cover your entire calendar so you get it all. Once you have saved this file, note where it is at, and you can close Works Calendar.
Now open Outlook. It will ask you if you want to change it to default and set up an email account. Unless you are considering keeping it choose no for both of these. Then choose the file menu again. Choose Open from that menu and then open Calendar. Find the folder where you saved your previous calendar and choose it. This will import all that information into Outlook.
Syncing Outlook with the iPhone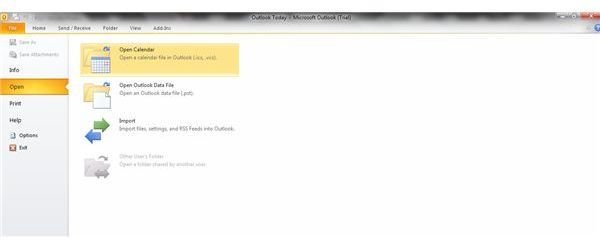 At this point you will want to open iTunes again (if you haven't closed it you may need to restart it). Go once again to the iPhone menu and to the Info tab. This time you should see syncing Outlook as one of the options. Choose that option and mark the check mark. You should then be ready to sync your iPhone. To do this simply run an iPhone sync as you normally would. Once you are done open the iPhone calendar and you should have all of your information synced over.
Can the iPhone sync with Microsoft Works Calendar? Yes it can but it is not as simple as you might like. The most basic answer is no, not directly, but like with almost any computer issue, if you're willing to put in a bit of time and effort looking for a solution there is one. So while this will not make using Works Calendar regularly to enter information on your iPhone a good choice, if you have already filled out a Works Calendar and don't want to give up that work this will help you to sync the two at least once.
References
Source, author's own experience.
Images, iTunes screen capture.
Images, Microsoft Word Calendar screen capture.