Lively, colorful story books have always been a part of every individual's good old childhood days. From fairy tales such as Rapunzel, Cinderella and Snow White and the Seven Dwarfs to Dr. Seuss's imaginative children's books, stories that we would love to read again and again are still a popular choice amongst parents. But times have changed, and iPad and iPhone story book applications have replaced those large hard-bound and pop-up books. This has become a nice portable option for parents, who can just swipe, pinch-zoom the app and read them out aloud to their children anytime. Toddlers too can use the applications because every story book app is optimized for ease of use and has a narrator with a clear voice. Here are some of the best iPhone story book apps that feature beautiful pictures and large-size fonts for easy reading.
Little Bella's I Close My Eyes (Animated Children's Book)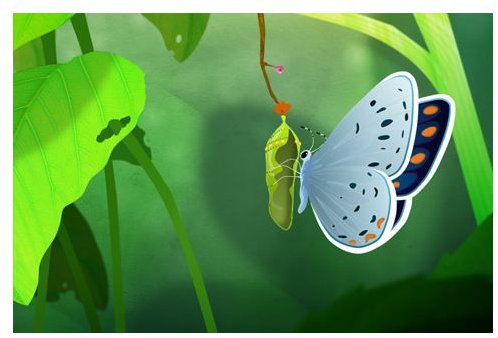 This story book app features beautiful animated shorts that your child will love to watch at bedtime. The high quality animations are best viewed on the iPhone 4, especially with its new retina display feature, which will make each animated short movie come to life. Little Bella will take you and your child to her own imaginative world of rainbow filled clouds, forests and many other places. The application is specially optimized for the iPhone, which really helps toddlers to navigate all by themselves.
Little Bella is an excellent app for preschool teachers looking for innovative materials that will help kids hone their reading skills. The app's read-along feature, interactive text and in-built presenter are the three most important elements to help young kids learn to read and interact with the story. The price is also much cheaper than other story book apps for the iPhone. The short adventures are a delight to read and the animated visuals are splendid. Overall, Little Bella is a perfect app for parents and teachers who are in search of fun and educational material for toddlers.
Grimm's Rapunzel: 3D Interactive Pop-Up Book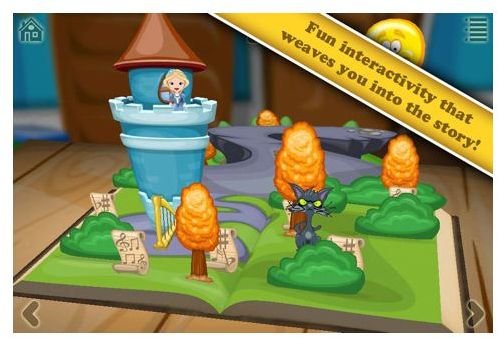 Pop-up books are different from traditional story books. With an interactive element, pop-up books bring in a whole new 3D perspective to plainly illustrated fairytales. Now, developers at Ideal Binary have come up with an innovative concept for the mobile platform –- a series of pop-up story books for the iPhone. Taking advantage of the iPhone's 3D capabilities, developers have woven together beautiful interactive story books with three-dimensional pop-up scenes. Touch the scene to rotate 180 degrees and perform simple tasks, such as watering plants and plucking flowers by simply touching the objects. Each completed task will help the story move further and keep your kids entertained.
Grimm's Rapunzel is one of the 3D pop-up books by the same developers and is currently available on the iTunes store. The story book app is as good as any pop-up book available at children's stores and has 30 pages of interactive 3D pop-up scenes. Each scene is associated with text that can be read aloud. The story is beautifully illustrated, and this can be noticed by dragging each scene to view them in their entirety. This application is optimized for easy navigation and touch-enabled interactivity. Grimm's Rapunzel is a great gift idea and will be perfect for your kids.
The Cat in the Hat – Dr. Seuss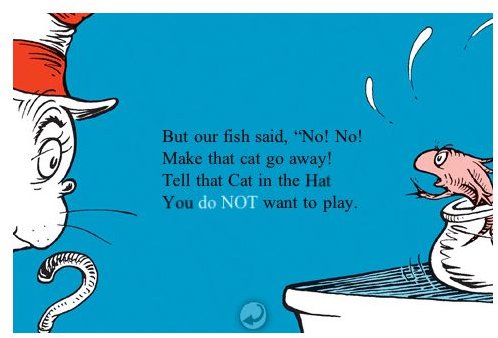 Widely known for his children's story books, Theodor Seuss Geisel was known for his different style of storytelling. His stories are full of imaginative characters, rhymes and lovely illustrations. He published more than 40 stories, and some of his stories had an amusingly endearing character. Stories such as How the Grinch Stole Christmas and the Cat in the Hat featured mischievous and interesting characters. These illustrated children's story books were adapted by TV shows, Broadway musicals and feature films.
The iPhone adaptation of The Cat in the Hat is as impressive and fun as the original illustrated work. The original artwork is enlarged to ensure easy viewing on the 3.5-inch iPhone screen. To develop a reading habit, the app highlights individual words as the kid reads the story. Your child can easily zoom in on each picture. The app retains the Dr. Seuss style of storytelling and adds many features that promote reading and entertain. The app also has an auto-play mode that brings in the inbuilt narrator to read the story aloud and automatically turn the pages. You can easily switch to traditional form, just like a story book. However, you must try the audio narration as it is quite crisp and does not sound mechanical at all. Overall, the Cat in the Hat is a must-have story book app for your kids, although the price is much higher than other similar apps.
The Story Mouse – Read-along Story Books for Children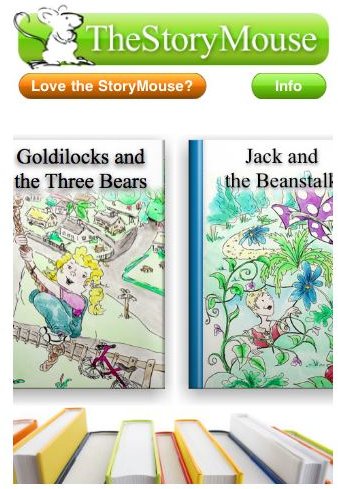 With colorful illustrations, crisp audio and lucid text, this app breathes new life into traditional storytelling by including lovely illustrations and a narrator to give your child a great reading and listening experience. Just hold your iPhone vertically to catch a glimpse of the beautiful pictures and turn horizontally to switch to text. You can also turn on the narrator at bedtime or on a long journey and let your child be entertained with the best fairy tales and stories.
The application can be installed free on your device. It comes with one story free, and allows you to purchase more stories from the iTunes store safely. Make sure to sample a few pages before making any in-app purchases. The Story Mouse app includes classic children's tales such as Jack and the Beanstalk, the Enormous Turnip, Three Little Pigs, Twas the Night Before Christmas and many others. New updates will add more stories, so keep a check on future updates. The app's colorful hand-drawn illustrations and the text mode that looks like a hardbound story book provide an enriching read. The Story Mouse could be a great gift idea for your kids.
A Very Busy Week
An educational story book app, A Very Busy Week brings delightful children's stories to your iPhone. Every story has an interactive part, which teaches counting and reading skills to toddlers. The simple illustrations provide a great way to teach your kids about basic math and help them explore numbers and improve their reading skills. A cute character named Nurse Trixie Six teleports your kid to a numerical world filled with educational stories that provide a fun pictorial way to learn counting.
A Very Busy Week has a "Read it to me" option that reads out text aloud and turns pages automatically. This can be very helpful if you want to keep your kids busy while you continue with your daily household chores. The interactive map lets you explore the different locations and touching an object on the map displays a new story. Along with short, simple stories, there are also a couple of sweet songs that help young children learn numbers. The read-along feature highlights text as your kids read out aloud, helping your child improve their reading skills. If you are looking for one of the best iPhone story book apps with educational content, then A Very Busy Week is just the app for you.
References