The New York Subway: Way Too Confusing
Absolutely everyone I've talked to who has had personal experience with the infamous New York subway system has told me one thing –it's really, really confusing. Especially for people who don't live in New York and merely take trips there, it can be nothing short of absolute disarray. Part of this is that it's the oldest subway system in the world, so as more and more trains got layered into it, things had to be moved and changed in order to accommodate the new schedules and routes. Thankfully, a few iPhone developers are here to help you out with your public transit woes with a few apps that will help you to navigate the warren of tunnels underneath New York City.
#4: NYC Subway 24-Hour KickMap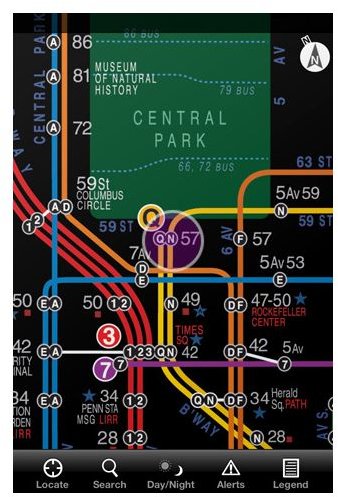 One of the most confusing things about the subway system in New York is the fact that things change completely based on what time of day it is. From 10AM-2PM, one train will go one way, but then after that every third train will take you to a different place and then past 6PM things change around completely. Thankfully, one developer has created a 24-hour subway map that shifts the routes based on what time of day it is, and it's one of the best New York subway apps for iPhone.
NYC Subway 24-Hour KickMap (no idea what a "kickmap" is, but I digress) is everything you'd want out of something like this. Its most notable feature is the pop up notification system, but in addition to that is possibly one of the smartest things for this kind of app I've seen — it doesn't require an Internet connection. Why is this so smart, you ask? Well, think about where you are when you'll be using this app.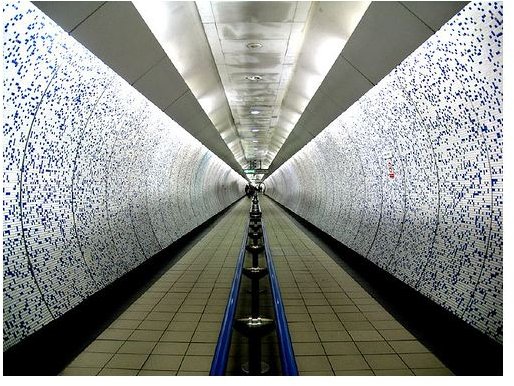 Yeah. Exactly.
Combine that functionality with the ability to check Google street view for the local area, and a list of train delays and changes? You've got a pretty solid app that serves its purpose, and it's just $2.
#3: New York Subway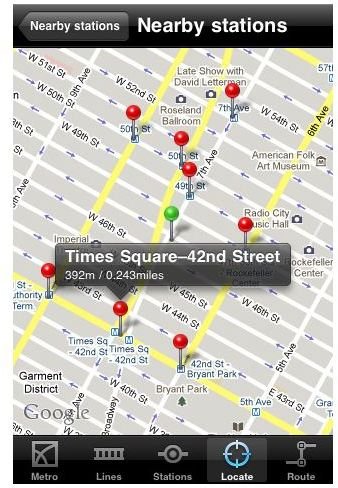 If there was ever an app that you could call a "jack of all trades" when it comes to the New York Subway system, it would be the one titled "New York Subway". This app has everything that the previous one does (trip planner, maps, schedules, etc.) but it's only a dollar as opposed to two. In addition, it sports a very classy augmented reality function that allows you to point your iPhone and iPad camera around the world and it'll overlay a map and directions for you, so you know exactly where you are and where to go at all times.
On top of the fact that there isn't a downside to the app at all, it's only 99 cents, which means you get all the navigational goodness without the price of a fancy application.
#2: Exit Strategy NYC Subway Map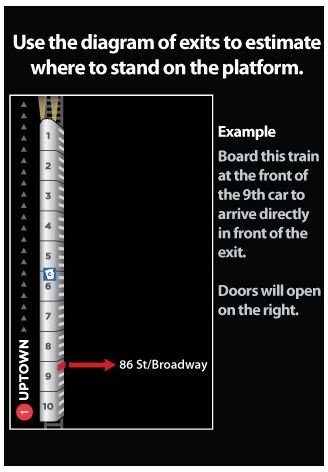 The comedically named, 'Exit Strategy' is an app that will get you out of the subway system as fast as possible, because no one really wants to spend any time down there anyway. Essentially there isn't anything particularly special about this app (or… any of the other ones for that matter!), but it does include one unique feature — it also has bus routes for when the subway can't help you.
I think I speak for everyone when I say that subways can't get you everywhere. I was in Los Angeles this past week, and while we did do quite a bit of traveling via the underground trains, there were times where they just wouldn't cut it. This is why the extra feature of bus routes is so useful, and it's something no other app has thought to include, but it comes at a price. Exit Strategy is the most expensive app on the list, clocking in at $4.
#1: CityTransit – Official NYC Subway Maps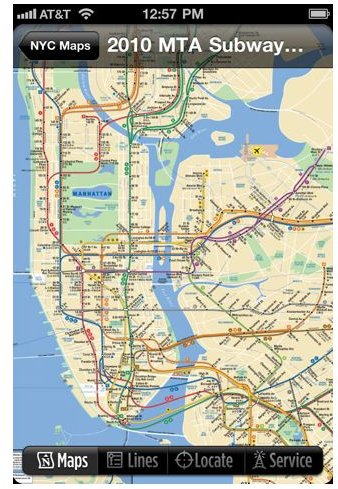 The only reason this app comes in at number one over the other ones is because it's officially sponsored by the New York transit association/police/authority. Other than that, it's really not much different than the other ones, and unfortunately comes with a lot of complaints. While the maps and data will always be the most accurate because of the source, many people have complained that the delays and construction data can be inaccurate or downright wrong.
One example is one traveler who attempted to reach a subway station that he thought was closed for construction. The app told him it was free and clear to go, so he went on down and lo and behold, no trains were offering service to that station. Despite this, it is just a $3 app, and you generally can't go wrong with an official source.
Download Links and References
All images and information come from respective download links, found below, except for this.
Download Links