Killer Cydia Apps
If you are really iPhone addicted, than the App Store will not be enough for you. Fortunately we have the option to jailbreak and use Cydia to get access to lots more options. After you jailbreak your iPhone, Cydia will be the best source of apps, tweaks and add-ons you can possibly find. You are going to ask yourself — why did I wait so long before jailbreaking my iDevice?!
In this article we are going to take a look at some of the best applications you can install on your iPhone in order to improve your everyday productivity. Here are seven killer Cydia apps.
BiteSMS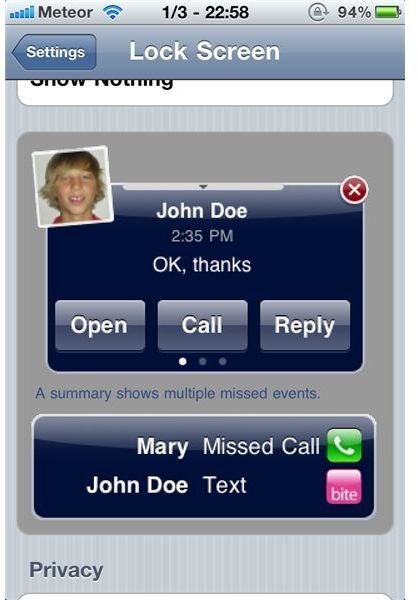 If you have never heard about BiteSMS you should run into Cydia and download it now. This is THE messaging application for your iPhone. It fully replaces the standard Message app giving you lots of enhancements. The first and main advantage is the Quick Reply mode. Thanks to this, you will be able to reply to any incoming SMS without leaving the current application you were running. No need to close games, no more interruptions. The program also comes with a big settings menu where you can customize each and every aspect of it, from appearance to deep functionality. It also has a great menu inside the message composition area.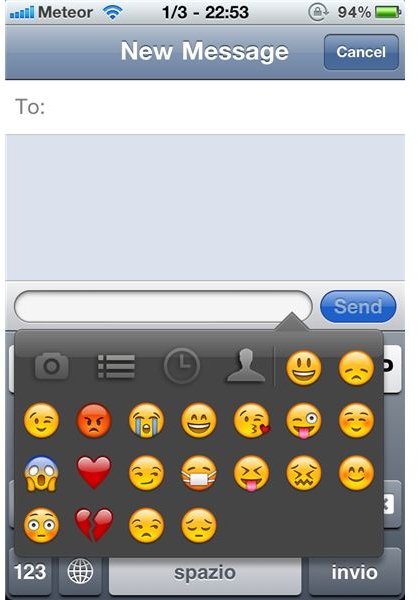 You can easily insert emoticons, program your SMS for a later automated send, as well as simply using previously saved templates. In simple terms, BiteSMS provides a whole lot of fixes for what is lacking in the standard Message app on your iPhone. BiteSMS is available as a free download from Cydia but it will have lots of advertising banners across its interface. There is the option to buy a full-license for $8.99. The license will be linked to your mobile phone number, so even if you change iPhone you can easily retrieve your existing license.
FaceBreak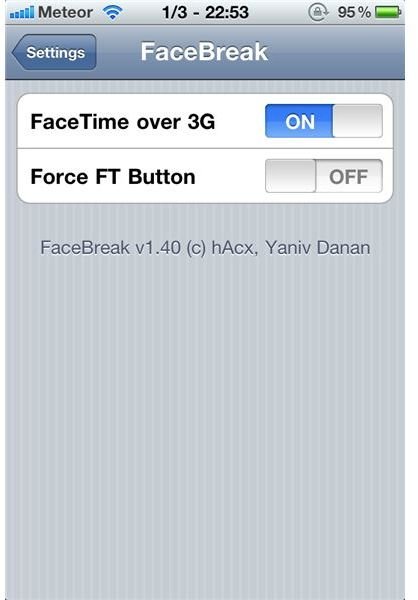 Have you ever tried a FaceTime video call? If so, you were certainly impressed by the smoothness of images and the sound quality. Your Wi-Fi connection is powerful enough to support all of this. It's cool to have the opportunity to video-chat at home, wouldn't it be great if you could do the same outside, to show your friends something cool happening around you? Well, Apple think that this is not so cool, or at least they think that your 3G connection won't be strong enough to support a decent video-chat. Some other developers, though, don't think the same way. That's why they've developed a tweak called FaceBreak. The name already sounds good. This app will let you enjoy a FaceTime video call over your 3G connection. Be warned, you won't find the experience as fluid as if you do the call over Wi-Fi, but it is a good way to enjoy this new feature. The video quality is auto-managed by the app, so it will automatically adapt to your current speed. Another warning: do not attempt a video call with FaceBreak if you don't have a data plan, because as you can imagine, a video-chat will drain lots of MB and as a consequence it will also drain your credit. If you want to try this app, you can purchase it for a mere $1.49. I think you should give it a try.
CyDelete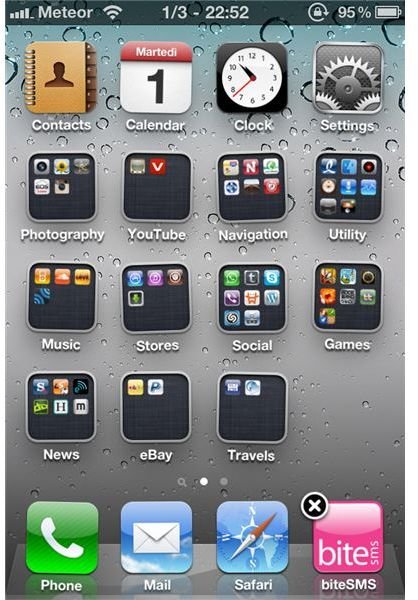 As you know, Cydia lets you easily install different applications on your device. What's not so easy is to uninstall them. Fortunately, nothing is impossible in the iPhone ecosystem, and CyDelete does just that. With this simple add-on, you will be able to delete Cydia apps directly from the springboard, without having to go into the Manage screen inside Cydia. Just as you do with a standard app, tap and hold and you will now see a black cross that if tapped will remove instantly the application downloaded from Cydia. Hitting the home button will then make the app stop jiggling as usual. It's a free add-on, and I really recommend it to you.
SwitcherMod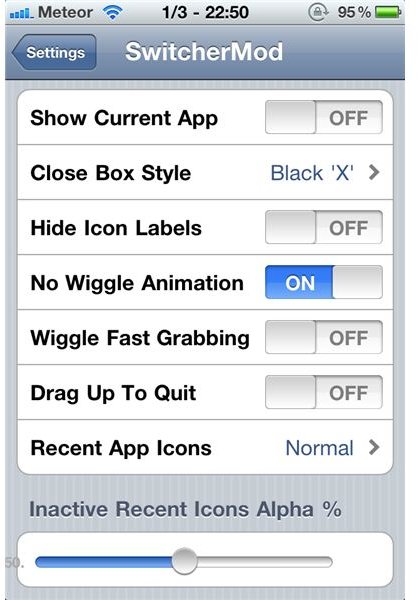 Again, this is a very simple add-on that will optimize your day-to-day operation with the Fast App Switching Bar. In iOS 4.x when you double-tap the home button, you bring up the multitasking bar. Here you find all the apps that you recently used in chronological order. Normally if you want to remove an app from there you need to tap and hold on its icon, waiting for the red sign to appear. With SwitcherMod your life will be even simpler. First of all, you will be able to see which apps are really working in the background and which are not. The first ones will be highlighted, while the others are shadowed.
The second big improvement is that by default you have a black cross over each application, so you can easily remove them without having to tap and hold. This is a free and easy way to reduce a little waste of time during your day-to-day operations.
MobileNotifierSettings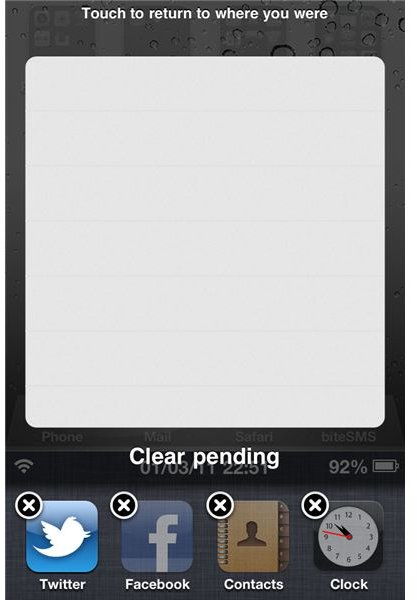 The notification system in iOS is good, but sometimes it is quite invasive and not always functional. The main downside is that when you receive a notification, you can either look at it or discard it. If you decide to look at it, you will leave the current app you're working on and you will be brought to the app that gave you the notification. If you discard it, the notification will disappear and afterwards you won't be able to recover it if you forgot which app it was. With MobileNotifierSettings your life will be easier. First of all, you will find a completely revamped UI for the notifications, really gorgeous and fully compatible with both a standard and retina display. Secondly, when you double tap the home button this will show you a custom list of all your notifications. This is great, because this app gives you the possibility to see the notification "later". In this case the pop-up will disappear and the notification will be saved into the custom list where you can see it a second time. Be warned, this app is currently in a beta version so it's not currently compatible with each and every app. Anyway it shows great potential. If you want to try it, just add this repository to your Cydia sources list: https://phajas.xen.prgmr.com/repo/
Display Recorder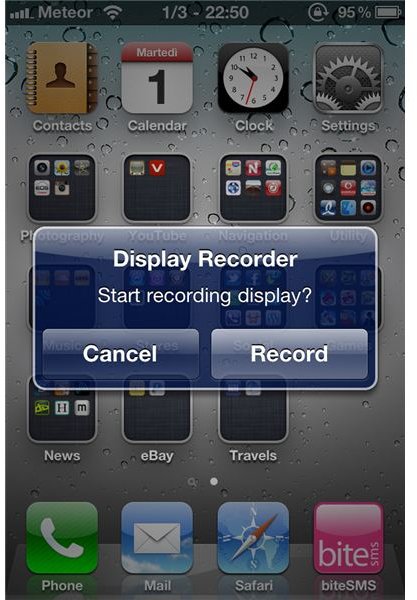 If you are used to reviewing lots of iPhone apps, as I normally do, this program should be a MUST for you. I'm talking about Display Recorder. With this beautiful app, you'll be able to record everything that happens on your iPhone's screen, in stunning quality. Up to 24fps with the possibility to directly send it to YouTube. Or otherwise you can download to your computer by connecting to a web server. The app is compatible with Activator and that means that you can choose a custom gesture in order to start the recording. You can find this app on the Cydia Store for $4.99.
WebLeaps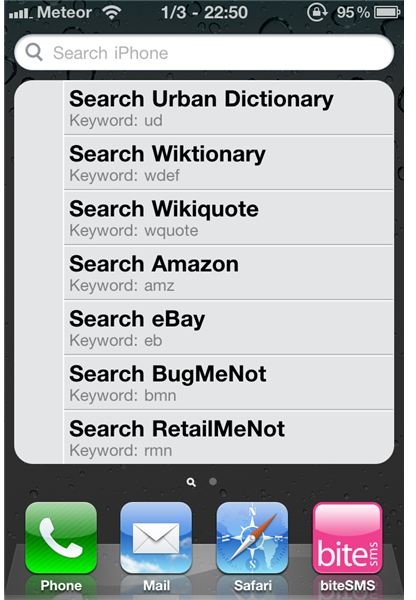 The Spotlight on the iPhone is certainly a good place for a one-time search, but what if it was possible to dramatically improve its functionality? Well, WebLeaps comes in to solve this problem. With this tweak you can add to the Spotlight page a number of custom search topics. You will have keywords to directly search inside the major tech, financial, news and social sites. It really enhances both the Spotlight and the search environment, giving you the possibility to quickly access to all your favorite sources of information. It is a $1.99 download, but if you use your device to search on the Internet quite often, I really suggest you take a look at it.
That was a quick tour of some of the "killer" Cydia apps that are available. Of course there are many more of them, but I personally think that this list represents the best of Cydia's offerings. Feel free to share your feelings about it in the comment area. Also, if you come across other great Cydia apps, let me know in the comments so I can test and evaluate them for you.
References
All screenshots taken by the author.