Remove Cydia Sources
The Cydia application lets you download and install several iPhone applications that can only be run on jailbroken iPhones. People often ask me — what is the difference between the applications provided on iTunes and Apple? The major difference is that due to stringent Apple policies for approval of an iPhone application, some applications never make it to iTunes. This is where, Cydia comes into play. It provides a platform for applications that have been rejected by Apple. But, Cydia also has some policies to approve iPhone applications.
There are several iPhone applications being authored by several iPhone programmers. In order to get applications that are not available in Cydia, you need to add sources to Cydia for that particular iPhone application. For example, if you need to add UltraSnow to Cydia, you first need to add its source to Cydia. Only then, can you download and install the UltraSnow app on your iPhone.
Why would you ever want to remove Cydia Sources?
The answer to the above question is quite straightforward. If you keep on adding sources to Cydia, it will hamper performance. If you look carefully, you will find that when the Cydia app opens, it first scans for updates. This update process also scans different sources that have been added to Cydia. As a result, it takes a lot of time before you are ready to work on Cydia. Therefore, you should only keep important sources in Cydia. Once the application has been installed, you can remove that source, if not required.
Another reason for removing Cydia sources could be that you added a corrupted source and now your Cydia app fails to start.
How to remove Cydia sources
In order to remove unnecessary Cydia sources, follow the steps given below:
Step 1: As a first step, you first need to download the iPhone browser. Click to download the iPhone Browser from this link: https://code.google.com/p/iphonebrowser/downloads/list
Step 2: Click on the exe file to install the application. Once the application is installed, launch it from Start Menu > Programs > iPhoneBrowser.
Step 3: Once the iPhoneBrowser starts, it will start searching for the iPhone. Make sure that your iPhone is connected to the computer and also unlock the iPhone with the pass code, if any.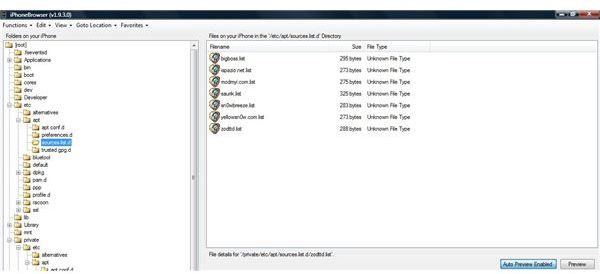 Step 4: Now, in the root section, move to etc > app > sources.list.d. On the right side of the iPhoneBrowser application screen you will notice the list of sources that have been added to Cydia so far. Click on any of the sources that you want to remove or have been corrupted and press the delete key to remove that source.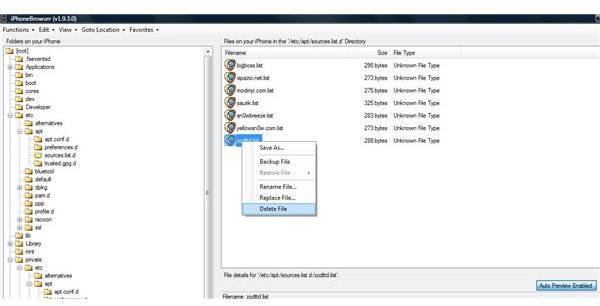 Alternatively, you can right click on the source you want to remove and then click Delete File. Restart your iPhone once done.
References
John Doe, "Unlock 4.2.1 Firmware on iPhone 3G, 3GS and iPhone 4" PreciousJohnDoe Nov 30, 2010
Images Credit: screenshots provided by author.