How Do I Take a Screenshot on My iPhone?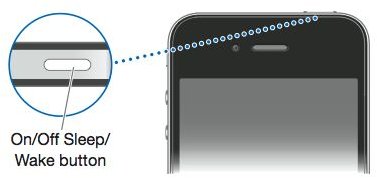 All you need to grab a screenshot on your iPhone are these two buttons: Home and Power (Sleep / Wake).
If you are new to the iPhone, it may help to first orient yourself to the buttons on the device. The Home button is the only actual button on the face of your phone. It is very near the bottom of the front of your phone and centered from left to right, with the image of a square with rounded corners on it.
Apple also refers to the Power button as a Sleep/Wake button, because you can tap it to put the phone to sleep. If you hold this same button in, you will be able to power your phone off. Regardless of the name, this button is on the top edge of your iPhone, on the right side (see the illustration).
To capture a screenshot on your iPhone, Apple recommends that you quickly press and release the Sleep/Wake and Home buttons at the same time. Be sure to navigate to the actual screen you wish to capture first. In my experience, the best method is to hold the Power button and then quickly press the Home button. Some people recommend two presses of the Home button, but the second tap is unnecessary. Your iPhone screen will flash white for just a second. Release once you see the flash, which simply lets you know a screenshot has been captured.
Viewing iPhone Screenshots

Once you've captured a screenshot on your iPhone, you probably wish to view, rename or forward it on. When you capture the iPhone screenshot, the image is saved to your Camera Roll within the native Photos app. The Photos app is where all your images are accessible on the iPhone. Look for an image of a sunflower (see the illustration).
Tap on the Photos app from your Home Screen and look for the "Camera Roll" menu, which should be at the very top of the list of albums. The Camera Roll is also where photos captured with your iPhone camera will be stored. Your screenshots are added to the end of the Camera Roll, so unless you have snapped any photos since you captured your iPhone screenshot they should be at the very end of the roll.
You can perform any standard actions with a screenshot that you can do with a photo taken from the iPhone camera. This means you can email the image directly from within Photos, save it as a wallpaper, or send it to MobileMe. To perform any of these functions, tap the icon in the very lower left of your screen when you are viewing the screenshot. This icon looks like a rectangle with an arrow emerging. It will bring up a menu that offers various options for sharing the image.