The Competitors
The HTC Inspire and iPhone 4 are two common choices for AT&T subscribers. One is a flagship Android phone, while the other is Apple's most recent version of its incredibly popular iPhone.
Both of these devices have their pros and cons, but few people have need for more than one smartphone. You'll need to make a choice. Let's put them head-to-head and discover which is the better phone.
Design and Ergonomics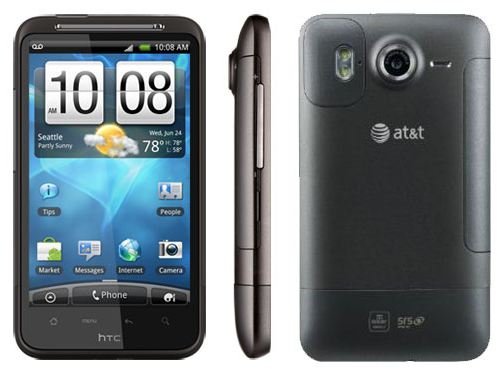 The HTC Inspire is a flagship 4.3 inch display Android phone. The large LCD is accompanied by an equally large chassis that's nearly 5 inches from top to bottom and almost half an inch thick. The weight of the device is 5.7 ounces.
Apple's lean iPhone 4 is just 4.5 inches from top to bottom and is 0.37 inches thick. It's also an ounce lighter at 4.7 ounces. However, the iPhone 4 makes do with a substantially smaller 3.5 inch display.
From a design and ergonomics standpoint, the smaller size of the iPhone 4 is an advantage in most situations. It's an easier phone to handle, particularly for users with small hands. I personally have to stretch a bit to navigate an Inspire's display with one hand, and I stand 6'2". The iPhone 4, however, is very practical even when you have just one hand free.
While the ounce of weight dropped by the iPhone 4 may not seem significant, it does make the device more comfortable to use during long calls. Apple's smartphone is also more attractive. The Inspire is a very plain phone – it doesn't look bad, but it doesn't look great, either.
Overall, the clear winner in this category is the Apple iPhone 4.
Software
Apple's smartphone of course ships with iOS, the tile-based interface that has become a staple of the company's mobile products. This interface works well for a device the size of the iPhone 4, and it is speedy. There's also a wonderful selection of apps on the Apple App Store. Although Android has made huge strides in this area, the selection still is not as solid as what's available for Apple's device.
The HTC Inspire ships with Android running the HTC Sense skin. This is arguably the best of the manufacturer-designed skins for Android phones, and it provides a wide range of functionality with handy widgets, like calendar and contacts, that can be dragged on to the home screens. The 4.3 inch display, combined with widgets (both those included and those available from the Android Market), make the Inspire much better for users who care less about quick access to apps and more about quick access to their information.
As you might expect, this ends in a tie. While iOS is quick and simple, it certainly isn't as customizable or functional as Android can be. On a smaller phone iOS is the better choice, but a large 4.3 inch device like the Inspire gives Android room to stretch its legs.
Hardware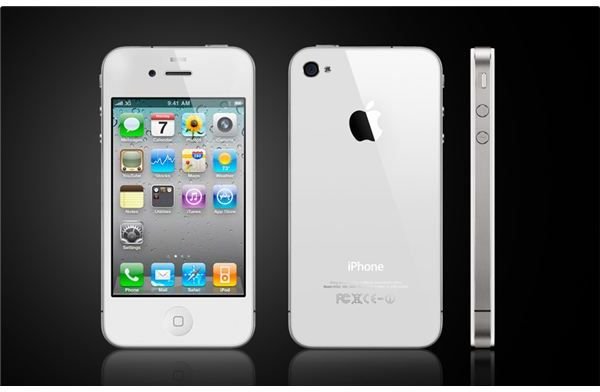 The HTC Inspire was among the premier Android smartphones when it debuted, and this was thanks to its 1 GHz Snapdragon processor combined with 768 MB of RAM. This is a powerful combination, and to this day there are only a handful of phones that are quicker, such as the HTC Thunderbolt on Verizon and the Motorola Atrix on AT&T.
Apple's iPhone 4, on the other hand, runs an 800 MHz Apple A4 processor which is paired with 512 MB of RAM. This combination was a real knock-out when it arrived, and it's still good even today. But it's certainly no match for the raw power the Inspire can offer.
There are several others hardware advantages for the Inspire. It comes with 4 GB of internal storage and comes with an 8 GB memory card, but this can be upgraded to a whopping 32 GB, while the iPhone 4 cannot be upgraded. The Inspire also has a better 8 MP camera, compared to the 5 MP version on Apple's device.
However, the iPhone does strike back when it comes to display resolution. While the Inspire's 4.3 inch display is physically larger, its resolution is just 480 x 800, compared to 640 x 960 on the iPhone 4. The iPhone also includes a 0.3 MP front facing camera, while the Inspire does not.
Overall, the hardware winner is the HTC Inspire.
Verdict
So – HTC Inspire vs iPhone 4. Which is the overall winner?
It's a close call. The iPhone 4 has better design, better ergonomics, and a small but high-resolution display. The HTC Inspire has faster hardware, higher storage capacity, and a larger display.
But there can only be one, and I name the HTC Inspire 4G the victor by a nose, largely because of the price. Currently the Inspire is a measly $99 on AT&T with a two-year contract of $449.99 without. The iPhone 4, however, is $199 to $299 with a two-year contract and $599 to $699 without. And good luck getting it without the contract – the sales reps usually fight it tooth-and-nail.
Another factor in the Inspire's victory is the iPhone 4's expected replacement by the iPhone 5 in the next few months. There's no reason to pay top dollar for an Apple product that will soon be second-best.
References