Budget Droid App Review for Google Android Smartphones
Budget Droid is an application that provides you the facility to track and manage your personal expenses from your Android phone. This app is very useful as it provides a common ground to track all your personal expenses. Managing personal finances can at times be very difficult, this app solves this problem by keeping a track of your monthly finances and managing them efficiently.
You can also create a budget with the help of this application, while comparing the budgeted amount with the actual expenditure to have an exact idea of how much you have spent or saved.
Overview
Budget Droid is very easy to set up and use. Purchase, Budgets, History, and About are the four tabs that you can work with in this application. Purchases tab lets you select a category. You can choose from a variety of pre defined categories or define your own. I liked this element of customizability in the application.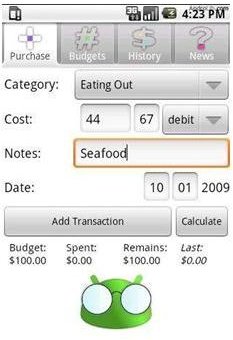 The grand total, notes, transactions in your list and the date of purchase can be entered under purchases.The Purchases tab is shown in the attached screen shot to give you an idea of the transaction entry system.
The budgets tab then allows you to create monthly budgets for each category. You can also create a new category in this tab. The Budgets Tab is displayed can be found in the screenshot below.
In the History tab you will get an idea of your budget, the amount spent, the amount remaining and transaction history. This feature is the best part of the application and is effective at helping you stick to your plan. The About tab will give you a brief overview of the application. In this way, you can accurately track and mange your expenses.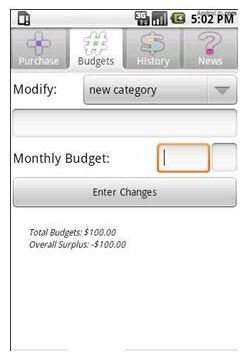 Conclusion
Budget Droid effectively tracks and budgets your personal expenses. It serves as a personal expense manager by efficiently managing your expenses and it's quite customizable so you can easily modify the default categories to suit your requirement.
The interface is easy to use and the options to work with are not confusing or complicated. Budget Droid is a very handy utility and is worth the purchase price for your Android phone.