WeFi Android App Review for Wi-Fi Connections
How WeFi Works
The premise behind WeFi is simple, just toggle the program on and off, when in the on state the program finds the best WiFi connections in your area and then auto connects to the network that it considers to be of the highest standards. The program also shows all area WiFi spots including their status such as encrypted or open.
Keep reading for a quick review and to examine several simple screens from this intuitive application.
Overall Use (4 out of 5)
WeFi offers an extremely simple to use interface, to begin the program just click on the application and then choose whether or not you want to choose your WiFi spot or Auto-Connect to the best network. I started by choosing the "Auto-Connect On" button which is hard to miss with its large green button that takes up a big part of the screen.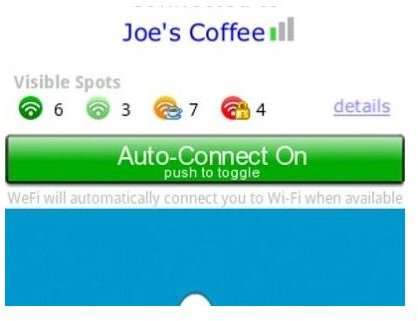 I also liked that the main toggle screen provided quick access so I could see what type of networks were available in my area. Many times in cities I won't find an open network, which means I have to walk around for a little while, even without auto connect turned on I was able to at least see what networks were available.
Of course just like a regular WiFi application on my PC there were times I wanted to conenct on my own, for these cases the program provides each connection with their names and the signal strength available for each network, along with whether or not they are available for connectivity. This option is just like your standard Windows or Mac WiFi display screen, while offering large finger friendly buttons. Simply clicking on a connection will verify your connectivity and allow you to begin using that network when available. If password protected you will be given the option to enter the WiFi spots password.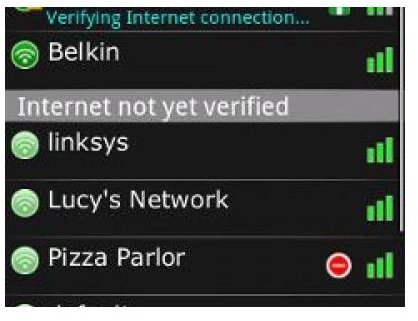 Conclusion
WeFi is a very simple to use application that makes connecting to available resources easier than ever. If you lose a connection it will auto connect for you, if you're moving from area to area the program will find the best connection for use and if you want to manually connect you have that option as well.
Overall a great piece of software that I highly recommend you find and download from the Android Market.
References
Android Market, https://market.android.com/details?id=com.wefi.wefi