Ringo Lite - Ringtones Manager Review for Google Android
Overall Use (4 out of 5)
When I first launched the application I was happy to notice how simplistic the screens were to use. The first tab is the "Default" tab, users can program the standard ringtones that will be used in this section. If for example you don't program a specific ringtone for "mom" then the default ringtone will play. This section will be overridden when you apply ringtones to specific contacts.
The default screen is simplistic in nature, you simply add a specific tone for your ringtone and a different tone for your SMS messages. You can also choose how many times that ringtone ringers or how many times you receive a ringtone message. Just save those default settings and the first part of setup is complete: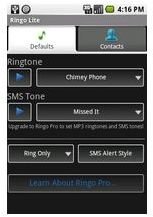 The contacts screen is just as simple to utilize, simple choose the contact you want to offer customized ringtones and sms tones for and then click save. That one specific contact will not have the ringtones you selected set for it. You can also choose the "Send Calls To Voicemail" option if you don't want your phone to ring through for that specific contact, a great option considering there are entire apps that accomplish just that feature, many of which cost money to download.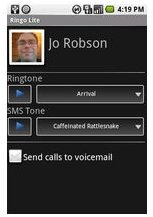 With the Lite version vs. the Pro version you can't use MP3 Files, which is a big negative of the application, but you can download specially designed ringtones directly onto your device using the Ringo download option.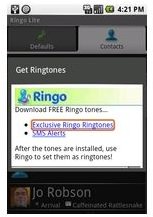 As you can see it's very simple to find new ringtones with a simple click.
Conclusion
Ringo Lite is an extremely simple to use ringtone manager that allows users to quickly assign specialized ringtones to each of their contacts and SMS tones, while still offering fun ringtone options for your standard default calls.
The app is free to download from the Android Marketplace and if you love it you can upgrade for a nominal cost to the Ringo Pro addition.
Overall a great app for customizing the ringers you hear when certain people call.