NightClock for Google Android: Bedside Clock and Alarm System for Your Smartphone
Overall Use (4 out of 5)
I'll be the first to admit that NightClock for Google Android is an extremely simplistic application, but it shouldn't be complex, after all it's a bedside clock interface and alarm application for your Smartphone. The program works by taking your entire Android devices display and turning it into a bedside based alarm clock.
The numbers that display are very large, which means you can see them in the middle of the night with a quick glance at your device. The program even allows users to quickly dim and brighten the numbers on the display with just a few quick button presses. Here's a look at the display: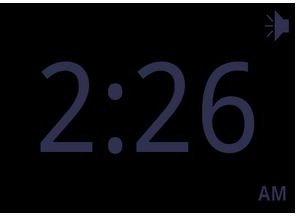 If you don't like the big purple numbers you can also change the colors to your own choosing which again is a simple process via the applications menu options. The application also offers the ability to show time in 12h or 24h modes based on personal preferences.
Just like your standard nightstand alarm clock the application also offers a snooze option which can be activated directly from your devices touchscreen with just a quick press of the screen, while the programs volume can also be adjusted and muted with another quick finger swipe.
Finally the program offers an alarm which can playback mp3 files. However in order to pull these files they must be placed in your Android's "Music" folder.
Conclusion
NightClock is perfect if you have a Brodit clip or some other type of mobile stand for your Google Android device. Simply hook your phone up in the clip and you now have a portable bedside alarm clock when you travel.
I was pleasantly surprised with how simple it was to customize the application and with the ability to use any mp3 file found in my music folder on my Android device.
I highly recommend NightClock for any travelers looking for their own traveling alarm clock.