Google+ Android App Review
Google's Social Network, Finally!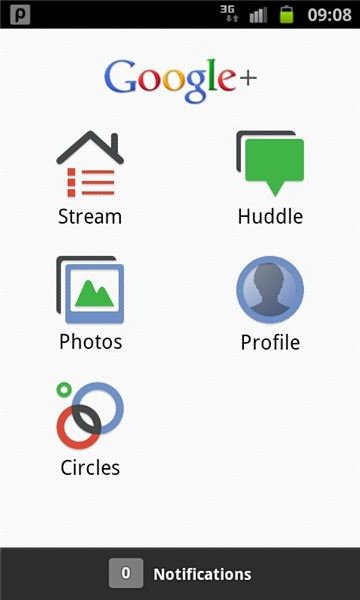 Together with the roll-out of Google+, the social networking platform was the release of Google+ for Android. The app is currently available for U.S. users only, but this did not stop me from looking for an external source of its APK. In short, I was able to install Google+ on my three Android devices - Nexus One, Galaxy S II and Galaxy Tab 10.1.
Prior to this, I've been using Google+ on my deskop and I found it a bit lame. But when I got to use the Google+ Android app, my perception of Google+, the service changed. It's the coolest thing to come out since Google Buzz. Finally, Google made it right. Google should make Google Plus available to the public as soon as possible.
Looking Closer at the Android App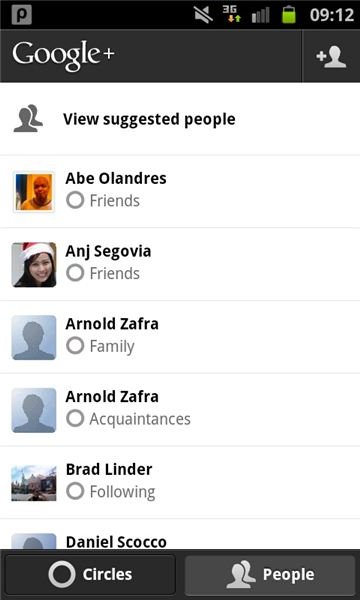 The first thing that you'll appreciate about Google+ for Android is the app's clean user interface - vintage Google. The main screen gives you the Google+ logo on top and directly below are five available services of Google+ for Android – namely, Stream, Huddle, Photos, Profile, and Circles. Let's take a look at what each of these options is all about.
Stream is the heart of Google+. It's simply the equivalent of the Twitter public timeline or Facebook news streams. Stream displays all updates from your circles, including comments posted on any of the items shared with you by members of your Circles. Yes, I know what you're thinking. Google says that Google+ will try to minimize the noise created by other social networks and yet obviously Stream is a sure source of that noise. Indeed many users are complaining that the Google+ Stream does not filter the noise right now. But let's give Google the benefit of the doubt and hope that this will be resolved in future updates to the app. Anyway, if you find your stream getting too noisy, you can always block or mute off a friend's post.
Huddle, on the other hand, is a fast group messaging option for everyone that belongs in your circles. This is a separate Android app that automatically installs on your phone once you've installed Google+. Huddle opens up a conversation thread where you can see all responses made by people you invite in the Huddle. Personally, I think this has a lot of potential and could very well compete with other IM client as well as against Facebook chat.
The Photos option shows Photos shared by your friends, photos of yourself, photos you have taken using your phone, which you may or may not share, and photos on your Picasa Web Albums, which you may or may not share with your friends as well.
Profile obviously displays your personal information, posts you've made on your Google+ Stream and your photo gallery.
The last option is also one of the most important, Circles. This displays all the circles which came as default to Google+ as well as new Circles you have created. There are two sub-options under circles – you can display the name of your Circles or have all your friends listed in alphabetical order, depending on which Circle they belong to. Tapping on the name of a friend will bring you to the profile page. From there you can comment on his/her individual posts.
It's Getting Noisy on the Stream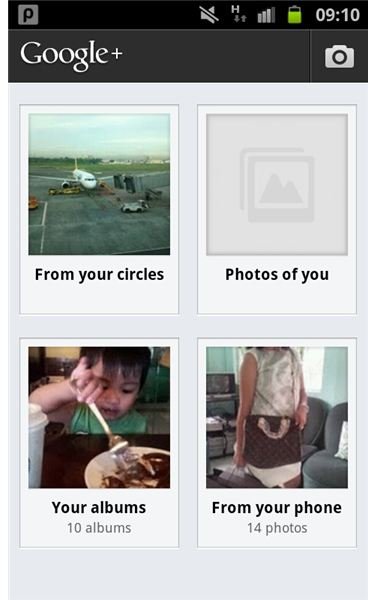 One of the common complaints from people who are currently using Google+ is the fact that when posting a comment, Google pushes an old post on top of your Stream. It doesn't matter how old a post is, for as long as somebody posts a new comment, Google+ will bump it up. So, what happens is that, if you are following a famous person for example, there's a tendency to push their posts once new comments are posted. So, it's either you mute that person's post or simply take them off from your Circle. But seriously, Google should do something about this so as not to annoy Google+ users. Facebook doesn't do this, it just lets a post stay on its current timeline, regardless of whether new comments are posted. Google can do this as well.
I'm pretty sure there are more issues being experienced by users with Google+ right now, but this seems to be the major concern as of today.
One Last Thing
I'll be brave and bold in declaring that Google has made a killer social networking platform here. It's better than the failed Google Buzz. Finally Google did something right and has come up with a service that has the potential to explode and challenge Facebook. With a little bit of tweaking here and there, Google+ is the next social networking platform to watch out for.
Finally, one of the major Internet players will succesfully join the ranks of Twitter and Facebook. We badly need Google+. Oh yes, this is about Google+ the Android app. Well, get it if you're using Google+, this app will make you appreciate Google's social networking platform even more.
References
Image credit: Screenshots provided by the author.