Experience and a little luck can give you a good day of fishing, but with the right technology you can make things a bit more consistent. These Android fishing apps offer such a tool by providing reliable historical data on where the fish have been biting and what are the best times to go fishing.
FishNotes by Jimmy Houston
This may be the one and only Android fishing app that you will need. FishNotes will help you keep a record of every fish you catch; you don't even need to do lots of data entry. Once you have a fish on the line pull out the app and hit the "fish on" button. The app will record the time, tide, location, wind direction and temp automatically so you don't have to. All you need to enter is what type of fish you caught and make some audio, video or picture record of the catch, if you wish.
Even if you drop the phone in the water and lose your fishing data your records are recoverable owing to the fact that all the records are backed up on the fishnotes.com website. The app also has messaging integration so you can update Twitter, Facebook and YouTube with your latest fishing reports or share your data with friends. The app cost $12.99. You can get this fishing application from the Android Market or download it from this link.
Fishing Trip Planner
It is your sixth sense that tells you when you are forgetting something just as you are about to walk out the door. As we all know it doesn't always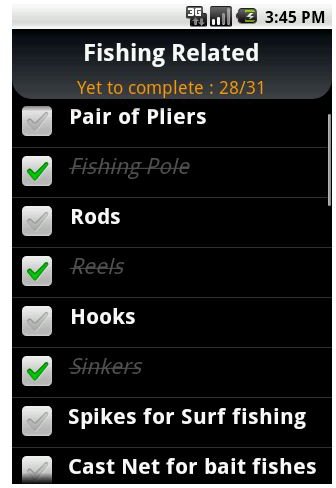 work and even if it does, it can be just as challenging to remember exactly what is being left behind as it can be to remember what is being forgotten. Ensure that you pack all the fishing equipment that you need for you next fishing trip by using the ultra affordable $0.99 Fishing Trip Planner.
The app comes preloaded with more than 225 fishing items, with more items being added every so often. The app allows you to add, edit, delete and categorize a list of items to take on your trip and gives you the option to save that list so you can use it time and time again. A copy of Fishing Trip Planner can be downloaded from this link.
Solunar – Fishing & Hunting TM
This is another solunar table app that shows the best times to be out fishing. The app's developer claims that it will also help with bird watching and game hunting, but it is not clear how that could be so. In any case the app does provide location specific information for finding the best fishing spot and time of day to catch the most fish. If you only want to identify when wild animals are most likely to be moving about it will do that as well.
The fishing and hunting guide shows the most active times using graphical animal activity index and displays other pertinent information such as sunrise, sunset, moonrise, moonset and phase. You can find a copy of the app at this link. Each copy of Solunar – Fishing & Hunting TM costs $3.99.
Fishing Calendar
This app helps fishermen improve their chances of having a good day out fishing. Fishing Calendar is a solunar table generator that gives the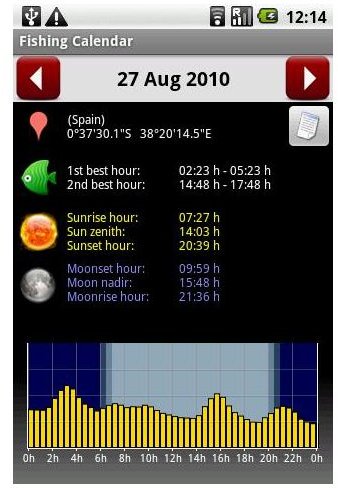 best hours for fishing. In addition, users have the option of using the app for making notes and taking photos of their catch as well as geo-tagging where they got the most fishing action. For a fee of $2.73 you can download a copy of Fishing Calendar for your Android phone at this link.
Conclusion
While all these Android fishing apps will help you determine the best times to go fishing, FishNotes is the most advanced app of the roundup for keeping a record of what you caught and making a note of the exact conditions under which the catch was taken. You only need to worry about not dropping the phone in the water.
Image Credits: All pictures are the property of the app developers
Solunar – Fishing & Hunting TM
FishNotes by Jimmy Houston
Fishing Calendar
Fishing Trip Planner