As a BlackBerry user, it's difficult to switch to Android, especially if you're accustomed to the BlackBerry Messenger app; but not to worry, there are many other messenger options to download to your new Android device. Read on to learn more about the Android apps that emulate BlackBerry Messenger. The apps are listed from the top choice onward, including an honorable mention.
1. KakaoTalk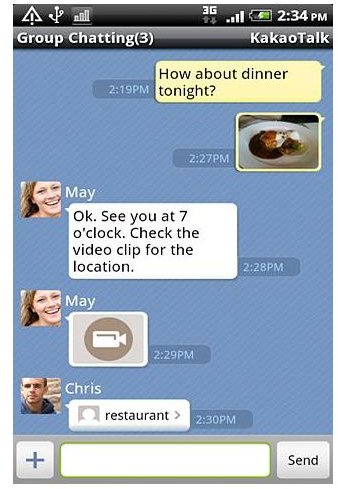 KakaoTalk Messenger is one the ultimate Android apps that Emulate BlackBerry Messenger. It allows you to chat with an unlimited number of friends, but not to worry, if your bestie doesn't have an Android – they too can download KakaoTalk (if they have the iPhone.) The app uses your phonebook to find friends that have KakaoTalk downloaded to their devices, and if you don't have their numbers stored, just like BBM, just enter their PIN to add them.
With this app you can also change the background image, and even protect your privacy on your Android phone, by setting up a password for KakaoTalk. You must have Android 1.6 and up to download.
2. Kik Messenger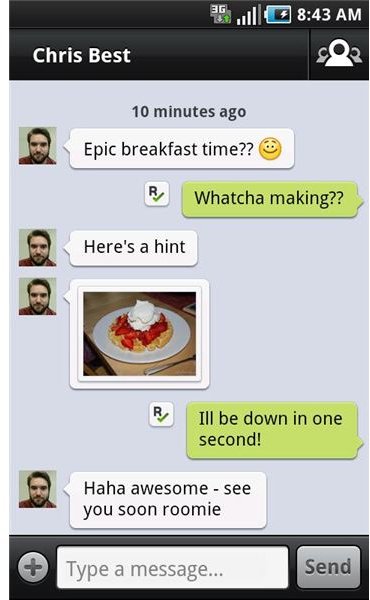 Kik Messenger is a free app that doesn't use SMS and doesn't have those annoying ads filling up your screen. You can chat with your loved ones, send pictures and create groups by simply adding friends to your existing conversation. Kik Messenger is an Android IM app that notifies you when you have a message waiting for you, and just like BBM, shows you when a friend is typing back when replying to a message.
Contacts will automatically be added as Kik Messenger scans your phonebook to see who else has the app so you can start chatting right away. This app requires Android 1.5 and up to download.
3. WhatsApp Messenger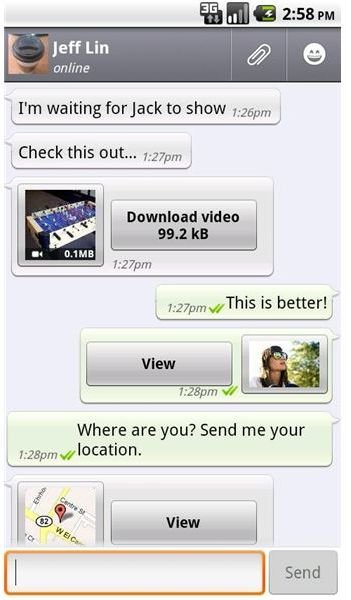 WhatsApp Messenger allows you to send and receive picture, video and audio messages! Once the app is downloaded, you can view other friends in your phonebook, that have WhatsApp Messenger so you can begin chatting with them right away without a pin or username. You don't have to worry about being able to chat with only Android users as iPhone and Blackberry users can download this app too.
Once you have used this app for a year, it's $1.99 per year to use it thereafter. This app requires Android 2.1 and up to use.
4. LiveProfile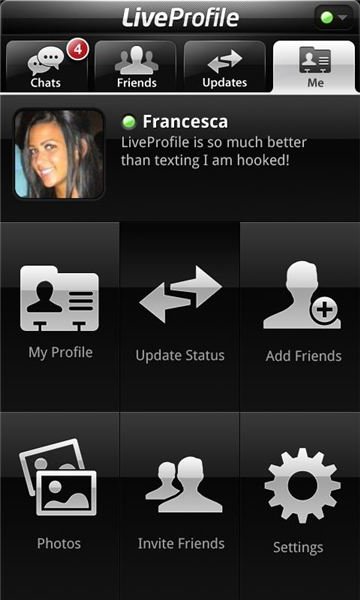 LiveProfile is a free application that allows you to chat and get delivery reports, update your status, upload photos, videos and more! LiveProfile integrates Twitter and Facebook so you can view all of your social networks within one application so there's no need to switch between screens to view them. This app is available on any platform, including Blackberry and iPhone, so all of your friends can join in on the fun even if they don't have an Android!
Just like BBM, all you need is the LiveProfile pin in order to chat with friends. This app works with Android 1.6 and up.
5. pMessenger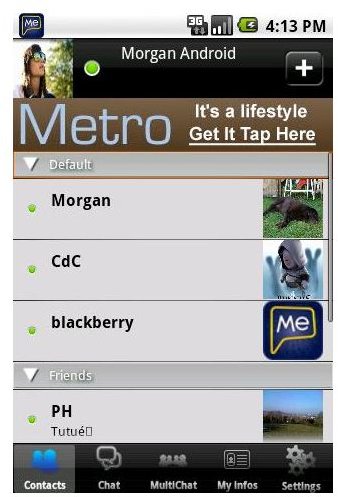 pMessenger is a messenger application that allows you to communicate with anyone that has the app downloaded to their phone via chatting one-on-one or in a group. With this free app, you can send picture, video and voice messages to anyone that has the app downloaded, including Blackberry and iPhone. You must have Android 1.5 and up to download it.
Honorable Mention: iGotChat Messenger/Free Text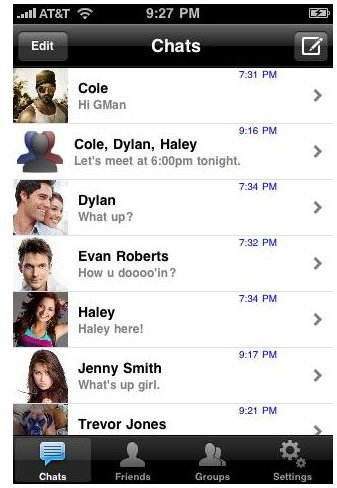 With iGotChat, you can communicate with anyone that has this app downloaded to their device, including the iPhone. This app allows you to group chat, poke your friends and customize the background based on your preference.
Although this is an honorable mention, as the other Android Apps that Emulate BlackBerry Messenger are a bit more advanced, it still does the job! In order to use this app, you must have Android 1.5 and up.
References
Android Market: Communication [https://market.android.com/apps/COMMUNICATION]