Android Wine Apps, Are They Really Worth It?
There are a surprising number of applications dedicated to wine in the Android Market. Unsurprisingly, a lot of them are of mediocre quality. It is hard to make a real comprehensive wine guide, with so many different types going around. Most applications therefore focus on one aspect of it and try to excel in their 'expertise'. Find out what the better wine apps are on Android in this overview.
Drync Wine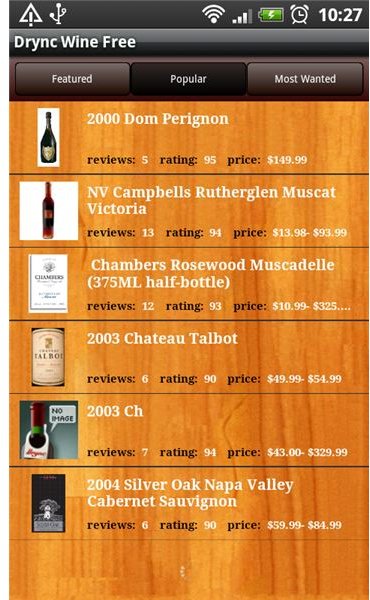 Drync Wine is a fairly straightforward wine application that does what it advertises. The app does indeed have a large database of wines, which can be saved to your 'wine cellar'. This virtual collection of wines can then be backed up online. This is a great feature for keeping track of your wines. However, it is not possible to, for instance, filter your collection, which makes the feature a bit simplistic. However, it is possible to make wine notes and save wines you drank, which you own and which you want. This can eventually be quite compelling for those serious about wine tracking.
The overall look of the app is a bit rough, with smaller lettering and small images of labels. Your findings can be shared with Facebook and Twitter as well. The app does excel in what it promises to do and a frequent wine drinker and tracker will be able to really make use of it. The app is still sometimes a bit buggy and force closes every now and then, but once these things are ironed out, a good wine app remains.
A free version of the app is available, which only lets you save one wine in the cellar. A paid, unlimited, version is $3.99 in the Android Market.

Wine Dictionary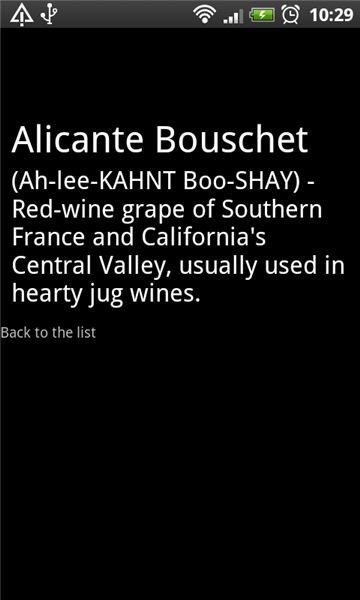 The Wine Dictionary app is a different type of wine app that focuses entirely on providing definitions. As such it is really an application for the beginning wine enthusiast, although experts can use it as a backup as well. The app provides a large list of common words in the world of wine. There are types of vines; types of wine production and general wine related 'slang'.
The app will come in handy for various occasions, such as choosing a wine in store or on occasions where a certain wine knowledge is required. The app doesn't do much more then explain wine related jargon, so the app would not replace any of the other apps mentioned here. Instead it is a rather great addition and could even make your life easier when browsing through any of the other apps, which can sometimes be too technical for beginners. Wine Dictionary is a clever app, filling a niche and available for free as well.

Swirl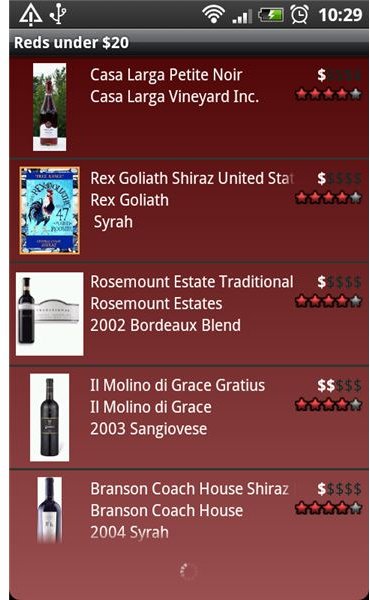 Swirl was one of the first wine apps to be available in the Android Market. The app tries to combine an inventory kind of application with a more informative one, and moderately achieves this goal. It does let you build a database of your wines, the ones you tasted, want, liked or disliked. The app also lets you save personal photos you make and add them to your wine portfolio. In terms of building a catalog this app is quite good in what it does.
On the other hand, the app also lets you pair food and wine. This is the part of the application that is a bit buggy and limited. It does make food recommendations but these are fairly limited. A recommendation for a red wine could, for example, be limited to 'Mediterranean' food, which could be anything from fish to salads, which might not be suitable for a red wine at all. As a basic guide it could work, but in terms of food recommendations the app is not too deep.
Wine descriptions themselves are good and really comprehensive, making the app suitable for anyone from a wine pro to beginner. A free version exists in the market with a $3.99 pro version upgrade available.

Hello Vino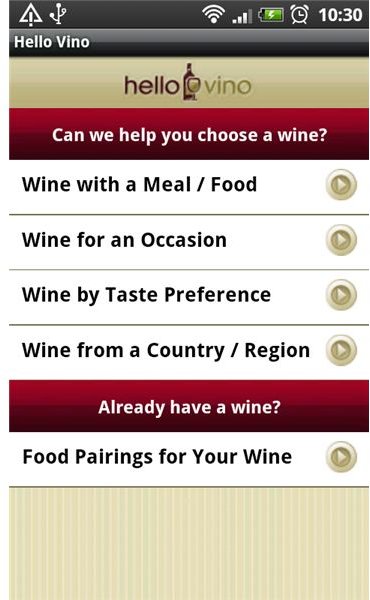 Hello Vino is one of the more useful apps out there specializing in finding the perfect wine for you in a variety of scenarios. There are four available categories for finding wine. There is 'Wine with a Meal/Food', 'Wine for an Occasion', 'Wine by Taste Preference' and 'Wine from a Country/Region'. This is especially handy for the not-so-expert people that would still like to have a nice wine for any of the above purposes. Even if you already have a certain wine the app can find a good dish for it.
The app is nicely designed and works well in what it does. It suggests a variety of wines for a specific scenario, ranging from cheap to expensive. This is not an app for cataloging your wine collection, but it is excellent in what it promises to do. One of the best wine apps in the Android Market and free as well.

Wine Facts 2000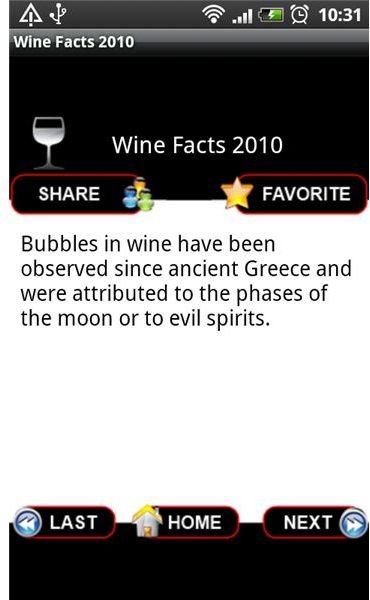 Wine Facts 2000 is unlike any of the above-mentioned apps and focuses more on wine knowledge in general. It is a trivia-like application with a large database of interesting and not-so-interesting facts about wine. Although a bit of a novelty app, surely wine enthusiasts will enjoy this application for what it is. Facts can be rather obscure and many can learn from it. The facts are displayed rather randomly, however, and aren't categorized, making this app a hit and miss experience. If Wine Facts 2000 was a bit more structured, it could truly be a nice companion for wine enthusiasts.

The Definitive Wine App on Android?
Wine apps on Android are available in large numbers. Unfortunately there isn't an Android wine app available yet that can label itself as the definitive one. All the apps described here try to show off something really unique. Unfortunately for a truly usable Android phone as a wine companion, a combination of apps need to be installed. For instance, in terms of food matching, 'Hello Vino' is unmatched, whereas 'Drync Wine' is perhaps the best wine-tracking app. You could welcome the variety of apps or conclude that there is still a gap to fill for some developer to deliver the true definitive Android wine application.