mVoice For Blackberry Review. Record and Organize Voice Memos.
Introduction
The mVoice application for BlackBerry allows users to create all sorts of memos and recordings with a single touch of a button. More importantly the program lets the user play back all their recordings as well as append new recordings to the existing one. The mVoice application can also record in the background, which means you can run other applications simultaneously.
Using this application, users will be able to access all their saved recordings in one single place and also make use of the built-in support for SD cards.
Overall Usage (4 out of 5)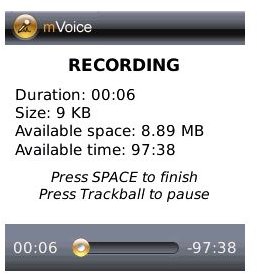 Once I opened mVoice, I went directly to the settings screen, which had options that included "Show Details", "Font Size", "Storage" , "Confirm File Deletion" and "Rename File." I simply customized the options according to my needs and decided to store the recordings in my internal memory.
I then recorded a two-minute clip of my rendition of Floyd's "Wish You Were Here" and then played it back. I was struck by the quality of the recording and also shattered by my singing prowess (or lack of it). The clip got saved and I was able to access it right from the application.
I then proceeded to the "Append" option and it worked brilliantly. I further sang the rock tune in off key and was able to add it without any glitches to the first clip.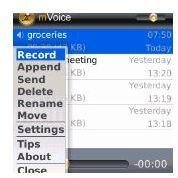 Another nifty little feature on mVoice is that users can send their clips via email by selecting the "Send" option. Since I didn't want to share my work of art (so to speak) with the public, I emailed it to my self and received it in a few seconds
Verdict (4 out of 5)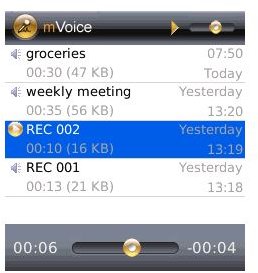 The mVoice application for BlackBerry is a great application for note taking, recording memos or just for playing around. The UI is simple yet intuitive, the feature set rich and the recording duration is only limited by available memory. However I do think at $19.99, the application is high priced for the casual user.