Is the Adorno UnitConverter For Blackberry a Must Buy?
If simplicity in design is what you crave when it comes to working with converters, then you'll love Adorno's UnitCoverter, an application that uses one simple display screen to enter and output all of your unit measurements.
Keep reading to understand why I love this useful application, even if the graphics are fairly standard and the use is simple.
Overall Use (4 out of 5)
When I first launched the application I was pleased to see a very simple output screen. This main screen includes a top level area for entering in the "type" of unit you want to measure such as "Distance, Weights, etc" along with the actual unit type. For example under distance you would have miles, kilometers, feet, etc."
Next I entered in the "Amount" as in 100 for 100 miles. Then the next section included the "unit" I wanted to convert my top level unit. Once I chose the unit for conversion the "Amount" under that section automatically displayed the new distance. I was even able to change the number of decimals places that displayed if I chose to do so.
Here's a screenshot of the application: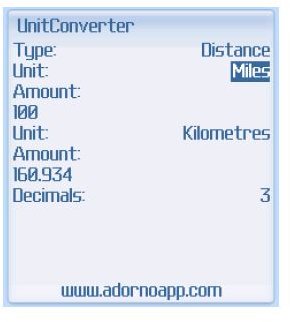 Currently the program includes 51 Types of measurements with 840 units of measurements. I tried all of the typical changes such as distance, weights, sound, electricity and a few others and I couldn't even get close to testing all of the available combinations.
Furthermore the application loaded each option very quickly and I was pleased with the results which proved to be perfectly accurate. I also liked that it was simple to jump between each option since they were all located on one screen.
Unfortunately the application does not offer a currency converter which would require daily online updates or a new field to input the current exchange rate number for each day. With that being said the application offers enough other conversions that most professionals will even love this application.
Conclusion
UnitConverter is a simple application that actually packs quite a punch. It's also relatively cheap at $4.99 considering all it offers in terms of conversion abilities.
I like simple applications if they serve a focused purpose and in the case of this application it does what it advertises and it allows for quick unit changes on the fly. It's nothing exciting but it's worth the download if you're constantly doing equations on pen and paper all day long.