WikiPock Portable Wikipedia App for BlackBerry
Wikipedia In Your Pocket
If you've got lots of work to do that requires access to good online sources but you're on a train or plane that has no internet connection - or in a remote location away from mobile networks and WiFi, then WikiPock might just be the solution you're looking for.
Utilizing the vast breadth of information content available on the world famous Wikipedia online encyclopedia website, WikiPock brings all of that information to your BlackBerry device, providing at-your-fingertips access to a superb online repository - all stored on your BlackBerry device!
WikiPock does all of this without and internet connection - meaning that you truly take Wikipedia with you in your pocket!
Requirements and Compatibility
Available for the BlackBerry Pearl, Pearl Flip, Onyx, Tour, Storm, Bold and Curve, WikiPock will run on OS 4.3 or higher. You can grab a copy for $9.99 from everythingberry.com, but there is one other major consideration…
Squeezing the entire contents of Wikipedia onto a BlackBerry isn't easy. In fact there are two versions of WikiPock available - the Basic Edition (reviewed here) which does not include updates and the Plus Edition which offers updates for 12 months.
These updates carry any changes to Wikipedia that have been made in the intervening months. As explained earlier, WikiPock doesn't download data from Wikipedia (other than when updating) - instead the whole encyclopedia is installed on your BlackBerry.
To do this requires 4 GB of spare flash ram.
While inexpensive, it is a considerable requirement, and one that stops WikiPock from being a perfect app.
WikiPock Screenshots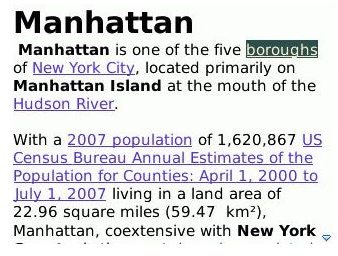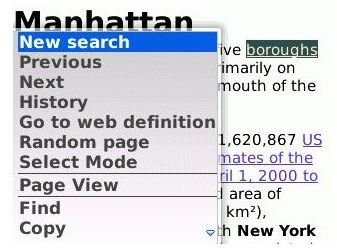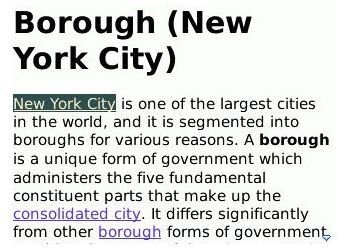 Impressive Application (4 out of 5)
WikiPock is an impressive application and the $9.99 price tag seems more than reasonable.
While the benefits of carrying 4 GB of mostly unused data around in your BlackBerry are negligible, the fact remains that the data is available, and is in your pocket.
Having access to such a repository while offline is considerable, and the providers of WikiPock should be congratulated for having such a great idea and producing this software.
If offline access to Wikipedia is you don't need, then naturally the 4 GB data card outlay while inexpensive is pointless. However for students working on material on planes and trains, it is a great tool.