Bluff My Call for BlackBerry: Change Your Voice When Making Calls
Disguise Your Voice with Bluff My Call
Available as a free download, BluffMyCall Mobile gives you total complete control over your phone calls, and is available with limited options for free from bluffmycall.com.
BluffMyCall is available for users in over 40 countries, and while the free version features a stripped down set of options, a feature-packed premium version is also available, allowing you to set a custom Caller ID, change or disguise your voice to and even record calls.
While there is a difference in functionality for the free version, these calls are limited to just 1 minute each with a 10 second long advertisement. Only the caller display can be changed on the free version, with no voice changer functionality.
Installation Options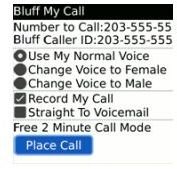 BluffMyCall Mobile can be downloaded directly from via BlackBerry from www.bluffmycall.com or alternatively choose either an SMS or an email OTA installation via everythingberry.com.
The utility is compatible with the 8220 Pearl Flip, 8300 series, 8800 series, Bold and Tour BlackBerry phones, and works by routing your mobile phone signal through Bluff My Call's own network.
This is how they are able to offer recording services, voice changer functionality and custom caller display - so any failures in these are due to Bluff My Call and not your carrier.
Bluff My Call's premium option is reasonably priced, requiring the purchase of credits in order to make calls from the currently supported countries of USA, Canada, France and the UK. Pre-paid and Unlimited price plans are available - $10 buys 60 credits while £29.95 buys 1 month.
Use Responsibly (2 out of 5)
Bluff My Call is undeniably a unique and useful service, although it is of course a service that equips the less discreet among us to abuse the telephone systems. There are only so many situations in which adopting a male or female voice can be considered amusing, and while the product's web page advises that a sense of humour is required, a set of moral scales might also be useful.
What the full set of advantages and benefits of a system that allows anyone to potentially commit identity fraud are, it's hard to say, but there is a considerable scope using this system to act without consequence.
As such it isn't going to get full marks from this reviewer.