Out With the Old, In With the New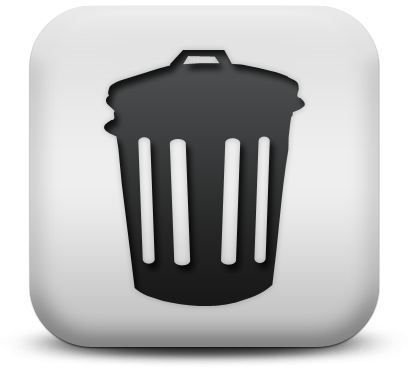 Is the stock BlackBerry wallpaper on your device getting old? Would you like to spruce up the background on your BlackBerry phone with some new artwork, or a cool picture you saw online?
Most average users don't realize that their BlackBerry device is fully customizable to their preferences. One of the best options available for BlackBerry users is the wallpaper change feature.
Wallpaper refers to the background image on the home screen of any BlackBerry device. It can be changed to any custom image the user prefers. In this guide I'll show you all you need to know about BlackBerry wallpapers.
First Things First…
Find an image or aesthetic you enjoy, or would like to see on the home screen of your BlackBerry device. BlackBerry wallpapers can be anything from a photo, to 3D concept art, to gaming screenshots or even custom images you've created!
Keep in mind the image can also be changed at any time using the steps I'm going to provide. So the wallpaper feature is a great way to keep your phone in season, or decorated with holiday images. That means in the future, once the christmas holiday is finally over, you can replace that image you chose of the snowman or christmas tree!
It is also important to know what screen resolution your BlackBerry phone uses; the image chosen will be resized to match your BlackBerry device so that it does not look distorted or warped. The resolution is measured in pixels and will typically be listed in the "number x number" format; or for example "480 x 800".
Here are some more popular phone screen resolutions for reference. If your device is not listed you may simply find the resolution by using your favorite search engine and listing the name and model of your device followed by "screen resolution".
BlackBerry Screen Resolutions
BlackBerry 8800-8700 Models: (320×240)
BlackBerry Pearl-7130 Models: (240×260)
BlackBerry Storm: (480×360)
BlackBerry 857 Model: (160×160)
BlackBerry 8830 Model: (320×240)
BlackBerry 950 Model: (132×65)
BlackBerry 957 Model: (160×160)
BlackBerry 7100 Model: (240×260)
BlackBerry 7130 Model: (240×260)
BlackBerry 7520 Model: (240×160)
BlackBerry 7730 Mode: (240×240)
BlackBerry 7750 Model: (240×240)
BlackBerry 7780 Model: (240×240)
BlackBerry 8120 Model: (240×260)
BlackBerry Pearl 8130 Model: (240×260)
BlackBerry Pearl Flip 8220 Model: (240×320)
BlackBerry Curve 8300 Model: (320×240)
BlackBerry 8310 Curve Model: (320×240)
Blackberry Curve 8320 Model: (320×240)
BlackBerry 8330 Model (320×240)
BlackBerry 8700 Model: (320×240)
BlackBerry 8703e Model: (320×240)
BlackBerry 8707 Model (320×240)
BlackBerry 8800 Model: (320×240)
BlackBerry 8820 Model: (320×240)
BlackBerry Curve 8900 Model: (480×360)
BlackBerry Bold 9000 Model: (480×320)
BlackBerry Storm 9500 Model: (360×480)
BlackBerry Storm 9530 Model: (360×480)
BlackBerry Charm Model: (324×352)
BlackBerry Pearl 8100 Model: (240×260)
Photo Like New!
After finding an image you might like for the background and taking note of your device's screen resolution it is time to resize the image for viewing on your BlackBerry device and then transfer it to the phone.
Open any image editing software and navigate to the "resize image" option. For the purpose of this tutorial I'm going to be using the default "Paint" program.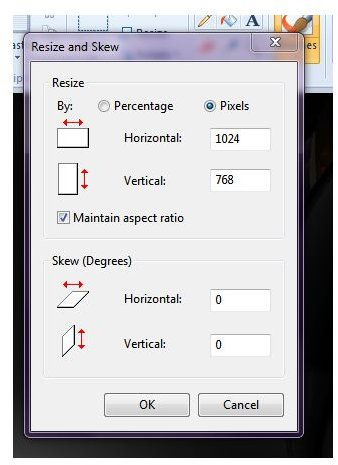 Once the resize image window is open users will be treated with a view similar to the image here. First we must select the "pixels" checkbox to indicate we are going to resize the image in pixel measurements and then we must enter our BlackBerry device screen resolution.
After the pixel resolution is entered click the "ok" button to make the change and if you are satisfied with the image save over the original.
If you find that your new image is slightly distorted after changing size, I suggest you back up a step by simply clicking the "undo" feature and crop the picture to a smaller size; in most cases the best option is a small rectangle with the width measurements remaining slightly longer than the height measurements.
After the image is saved, you can then transfer it over to your device using the BlackBerry Desktop Manager software. The picture can be transferred to any folder on your device just take note of where it goes for future reference; I recommend transferring it to the "SDCard/BlackBerry/pictures/" folder on a MicroSD card or the "fileconn.dir/photos/name" directory on the actual device.
If you do not have an active computer, or the BlackBerry Desktop Manager software installed fear not; you may still be able to transfer the image to your device using one of the methods below.
E-mail the resized image to yourself and then open it on your BlackBerry device.
You may use a website that allows you to upload the image and then connect to a URL to redownload it from your BlackBerry device; (ImageShack, TinyPic etc.)
Download the image directly from a mobile wallpaper website featuring BlackBerry wallpapers; this is usually easier as you can browse images natively in your resolution size meaning no need to edit!
Take a photo or use a previously captured photo that is already stored on your device!
Cool Background!
After the resized photo or picture has been transferred to your BlackBerry device you can now select it as the default wallpaper or background.
To do so, first navigate to the directory or folder where you transferred the image and open the picture. Once the image is previewed on the screen hit the BlackBerry "menu" key and choose the "set as home screen image" option.
Voila! You now have a new background, and might I say it's looking good!
Another Option?
There are also a few BlackBerry applications floating around that allow you to browse wallpaper images and automatically set a new background.
Users will have to do their own searching and find these apps through their own methods.
Apps
Custom Upload Sites
Pre-Sized Image Sites