Introduction
In a similar way to the App Store on the iPhone, several mobile device platform managers are implementing their own quick-install solutions for getting mobile apps onto the devices in question and Research in Motion's BlackBerry devices are no exception. First released for use on April 1 2009 (no joke, guys: it really did come out on April Fools Day) following about five months worth of speculation from the initial announcement on October 21 2008, App World (the name of the service was announced on or about March 4 2009) serves as a one-stop shop for locating, purchasing and installing a wide variety of apps for use on various supported BlackBerry products.
Now it's just over a year later it's time for me to put it to use and show you how App World functions. In this guide, I will show you the ins and outs of App World and guide you through an example of how to install an app to your BlackBerry device.
Opening App World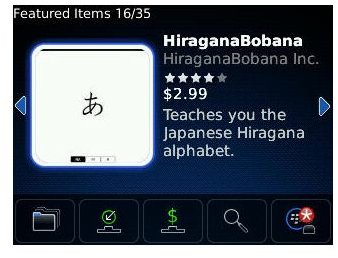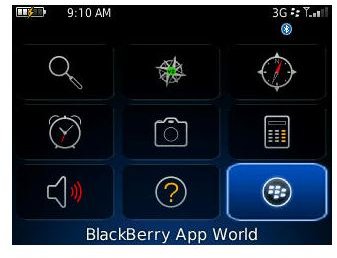 First off, press the menu button from the home screen to bring up the app list, and look for the icon highlighted on the left example. If you don't see it yet, just go to the Application Center and install from there and reboot if needed, then repeat the process to find the icon. Since the App menu is user-customizable your App World icon may vary in location so adjust if needed, and click the trackball/trackpad when you locate and highlight the icon. You should see the options illustrated on the right side, in a similar manner as to what I did to explain the e-mail account setup procedures not too long ago.
Getting Around the Store
Now that we're in the store, let's explain a few things. Most of the screen is occupied by a featured items display that you can cycle from left to right, beginning to end, to check out the latest featured picks. This part of the menu changes frequently so what you see in my example will obviously be different when you go shopping. On the lower row, you can select from the options relevant to your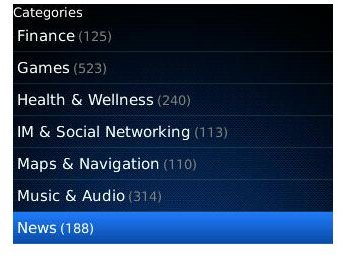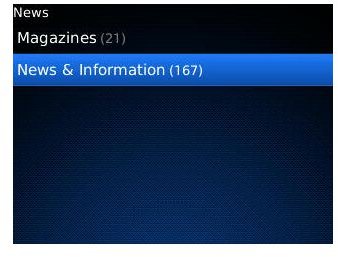 intended task; these are your category browser, top free and paid apps, quick search and installed apps (the latter of which is labeled as My World) in that respective order.
We're going to do a quick category browse here, so highlight that option (again, on the lower left of my example above right) and click the ball/pad to proceed into the category browser. Using the left/right illustrations approach once again, we're going to install a current events reader app from Time Magazine so scroll to News as seen on the left and click the ball/pad. Now even though we're discussing a magazine source (which suggests the Magazines option) the app we are downloading is actually under the lower selection (which is News & Information) so choose that instead as shown to the right, and click again.
As a side note, the main screen choices pertaining to search and top picks will not be discussed or shown in direct reference as both use elements from the screen displayed upon loading the app list displayed at this point, which is about to be discussed and is actually similar to how these additional browsing methods work as it is, so I henceforth don't see any specific need to discuss them separately. I will say, however, that using the search input (which is also available on the category browser results) requires you to highlight the search box and input your query, and then all you need to do from there is hit the enter key to get your results, quick and simple as that (unless you're already in the category results, in which case the search process is completely automated).
Selecting, Installing and Updating your Apps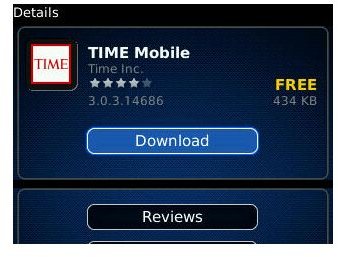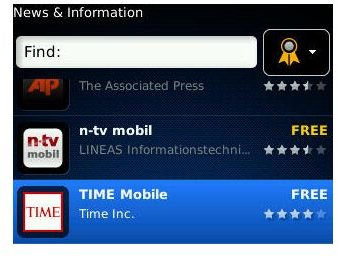 You will now see a list of BlackBerry apps, both free and paid, that fit the overall theme regarding your selections to this point. The downloadable app for Time Mobile doesn't cost us a dime so this installation will be rather quick. Using the ball/pad, scroll down to the option for the Time Mobile App (see the left image as usual) and click as before. You will see the details for the app on display now, which you can scroll through if you wish; once you're ready to download and install, scroll back to the top, highlight Download, click the ball/pad and let App World take care of the rest. For apps requiring a reboot you will be prompted accordingly so pay attention for that.
While your app is downloading (or if you choose the My World option to see your installed apps) the following menu will be used to show you what is installed (or currently downloading, as in this example):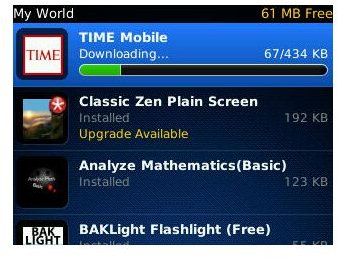 You will also see an upgrade available message for anything where a new version has been released as shown in the installed apps screen. Choosing an installed app with an upgrade to download pulls up a menu similar to the upper right example, but with options to upgrade or run what's already installed. In fact, choosing any installed app will give you an option to run it directly from App World if desired. If you're not in App World, of course, you can select it from the App menu like you did with App World itself. App World installations are shown under the downloaded apps submenu; however, this can be modified under the home screen preferences menu.
As an aside, if you're downloading a paid app, you will be presented with a Buy option that does everything that the free app download does, but also walks you through the payment process before downloading so as to ensure you stay legit. This will not be performed in the course of finishing this guide (for reasons pertaining to my own inherent privacy) — but since it uses PayPal as a means to complete and process the transaction it should work much the same as making a PayPal transaction from your desktop computer.
Now for some more ideas on what to download from BlackBerry App World check out our Ultimate BlackBerry Apps Guide.
References and Images
BlackBerry App World, https://appworld.blackberry.com/webstore/