The Best NBA App for Blackberry: Viigo Lets You Get Scores, Schedules, and Standings on Your Phone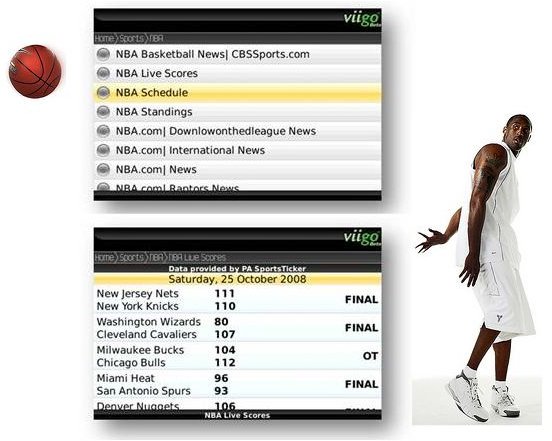 NBA Action on Your BlackBerry
Many Blackberry owners have already found the power of Viigo. For the ones that haven't, Viigo is a program that puts the best of the Internet in one easy to find location. Users can access breaking news, weather, the stock market, their favorite blogs and Google tools with one-click access. The program has been more than useful for me when I know what I want to find and only have a small amount of time to find it.
Viigo has now incorporated its very own NBA service. NBA schedules, live scores, standings and much more are now delivered straight to your BlackBerry. This feature comes just in time for the first game of the season. I can't express just how excited I am to be able to enjoy this. All news and information about the NBA and from NBA.com is waiting right there on your smartphone for you to access. I've already been accused of spending way too much time with my BlackBerry; this new service will not help my addiction.
As a long running NBA fan, I find with my gruesome schedule it is hard to catch all of the games. Although my DVR box will be loaded with saved games that will take me until next season to watch, I would enjoy having the regularly updated scores delivered right to my BlackBerry in real time.
Another cool feature that comes with this new NBA service is the ability to update your calendar with a scheduled game. Since Viigo will show all the schedules in their service, all that you have to do is to select any game from the schedule and select "Add To Calendar" from their menu. I get calls from my brother all the time to see when a certain game is on. Now, I can tell him to download this service to his BlackBerry and I don't have to worry about him bothering me during an important meeting again!
Viigo is a free service that anyone can download and install. The best part about this program is that it keeps getting better with time. It seems that every time I look up, they are adding more and more features. Out of all of them, I am more excited about this new NBA service than I am about anything. This service speaks right into the heart of any NBA fanatic.