Interstate Highway Apps for BlackBerry
Interstate highway apps for BlackBerry can provide a number of traffic related alerts and updates on major roadways in your area and surrounding regions. Some of these apps can tell you what the weather is like just a few miles towards your direction, as well as inform you on the traffic situation on certain roadways leading to your destination. In all, they can be very useful in avoiding traffic congestion and detours plus much more.
Trafficent – Traffic Canada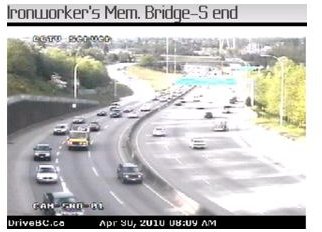 Trafficent provides instantaneous traffic updates directly to your BlackBerry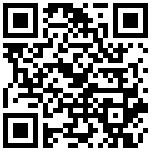 smartphone. It has an easy navigation map and quick reference drop-down incident list. You can get updates on collisions, construction, road closures, events, traffic flow, traffic volume information, border delays and highway traffic cameras in your area.
Unfortunately, this app can only provide traffic details for Canadian roadways and highways in all major cities including Toronto, Montreal, Ottawa, Hamilton, Winnipeg, Calgary, Edmonton and Vancouver.
There seems to be a couple issues with this app's usability on certain versions of the BlackBerry. You need to check the supported devices for Trafficent at the BlackBerry App Store, before you download Trafficent to your phone. On a more positive note, this app has pretty good picture quality, it is quite reliable as well as quick in retrieving traffic information.
511NY Mobile App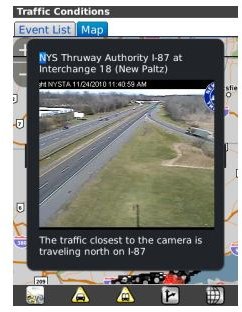 This BlackBerry interstate highway app, is New York state's official traffic and

travel information source. The 511NY app provides statewide real-time traffic and transit information for all of New York. You can get highway information on traffic conditions, incidents, direction and speed, among other traffic news. The app also offers a transit trip planner, camera views, as well as weather alerts and forecasts in your area and surrounding destinations.
This is a great app, you will find that it is easy to use and is the ultimate traveling companion.
Beat the Traffic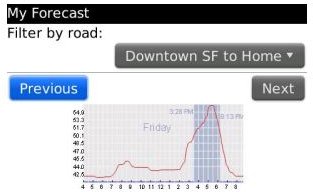 This app is available for users in United States and Canada, it provides live traffic maps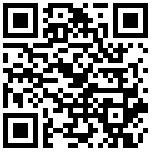 of your location, displaying information on traffic speeds and incidents on major routes, as well as forecasts for traffic congestion and intelligent predictions on traffic situations for up to seven days in advance. Beat the Traffic is fully functional without GPS, you can browse real-time color-coded traffic maps for your city, zoom in and out, and view live camera pictures of your routes. Beat the Traffic is a great app, once installed to your device, accessing data will be quick as well as accurate and reliable.
Check the Beat the Traffic -BlackBerry Website to view the locations where live traffic cameras are accessible.
BlackBerry Traffic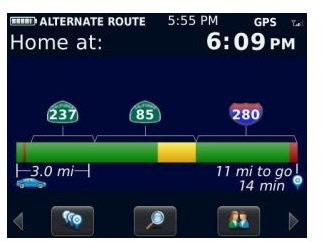 This is a free interstate highway app for your BlackBerry smartphone; it provides

maps to show road incident data, as well as estimated time of arrival. It plots your routes with a short cut guide -this way you can decide to take faster, alternative routes to get where your going fast, and save gas while doing so. In addition, BlackBerry Traffic assists your whole travel experience by giving you the opportunity of emailing someone in your contact list, a message indicating your ETA (estimated time of arrival), along with a preset note, so as to avoid from them getting weary or keep them waiting in vain.
BlackBerry Traffic is among one of the most downloaded apps among its kind.
EMobile GPS Traffic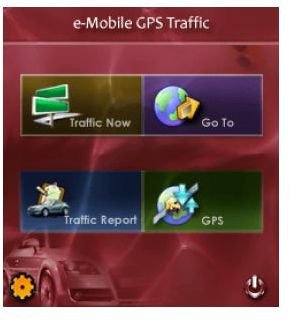 This traffic app uses GPS technology to provide a long list of traffic updates to your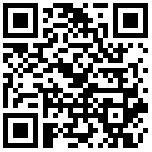 BlackBerry device. It has a very attractive color-coded display screen and uses a map to give traffic conditions, directions, incidents and accidents, route indications as well as your speed, current latitude and longitude points during travel.
The GPS feature on this app guarantees precise traffic data – live traffic flow, real time traffic info to points of interest, along with detailed maps. Statistics show that the eMobile GPS Traffic is very helpful in aiding commuters to save time.
Traffic Alert – Toronto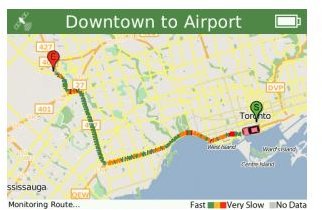 The highlight of this app is its hands fee visual and audio feedback on traffic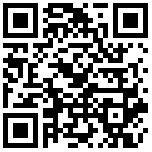 conditions on your route. It provides real time traffic updates – traffic incidents, congestion and much more. Another great feature with this app is the traffic participation reports you are able to contribute. Through the push of a button you will be connected to the traffic center where you can provide your own take on the traffic situation in your area. Unlike other interstate highway apps for the BlackBerry, Traffic Alert is possibly the most interactive. If you like sharing your views then this app is for you; it can make you feel very involved once you begin to participate in the live traffic updates the app has to offer.
More Interstate Highway Apps
Here are a few more helpful interstate highway apps for your BlackBerry device.
Octo Traffic – [Download Link]
Traffic – [Download Link]
Scanner Radio- [ Download Link]
Police Scanner Radio – [Download Link]
Reference
Interstate Highway Apps/ BlackBerry AppWorld/ https://us.blackberry.com/apps-software/appworld
Image Credit- Screenshot courtesy of Blackberry App World