Empower Threaded SMS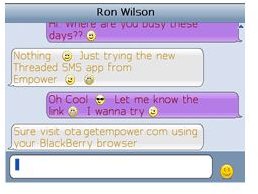 Empower Threaded SMS offers "true threaded" SMS messaging for your BlackBerry. The SMS client appears closer to the design of an instant messaging application than the inbuilt text one does. It features different themes including an iPhone design to replicate the iPhone bubble design. Empower Threaded SMS includes many inbuilt emoticons to build upon the standard BlackBerry set which liven up your messages with larger and newer graphics. Empower also includes configurations to popup new text messages, set reminders and much more.
Empower Threaded SMS costs $5.99 and is a great SMS application to use if you want to change the way you use and view your text messages. The best feature of Empower Threaded SMS is its iPhone Bubble Theme. You can download Empower Threaded SMS from the link below or from the BlackBerry App World.
Ditto
Ditto is designed to be the perfect group messaging SMS application for your BlackBerry. Ditto fills the void for group conversation, as featured in BlackBerry Messenger, for your friends or c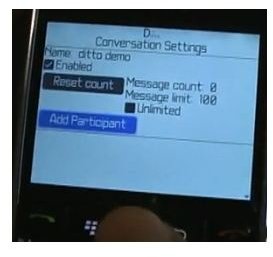 olleagues without BlackBerrys. In Ditto when you set up an SMS chat you can configure who you wish to reply and who you wish to send the texts to. Once set up, any replies from those allowed, will be distributed to the group. Ditto is a great application to quickly organize an event or party with a group of people.
Ditto costs $2.99 and is available to buy from the link below, or in the BlackBerry App World.
CrunchSMS
CrunchSMS (stylized as crunchSMS) is another bub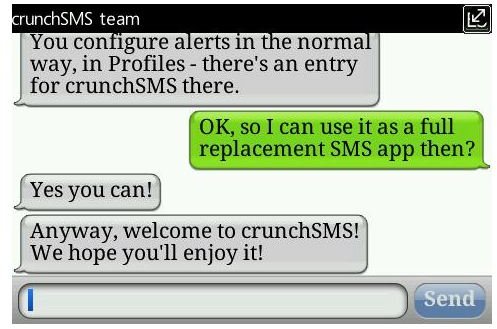 ble-styled SMS client for the BlackBerry. CrunchSMS will be a great application to get if you want to be able to send longer messages than you are usually can. CrunchSMS splits your message up into 160 character texts and sends them individually to the CDMA server, allowing texts with no message limit. Configurations include the ability to show contact pictures, new smileys and signatures.
CrunchSMS is free to use, but after seven days includes an advertisement that you can remove by paying for the full version. CrunchSMS is available from the BlackBerry App World.
Siesta Text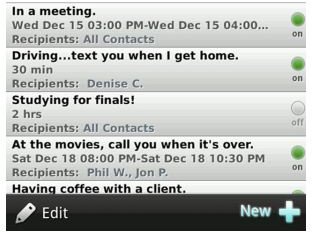 Siesta Text is an auto-reply text messaging application that can be set up to send messages after you receive an SMS or a call. This is a great tool to use if you are going away on holiday or are going to be stuck in a long meeting, and need to let potential clients know that you will get back in touch with them. Siesta Text also includes a BBM auto-reply as well, so you will never have to worry about replying in busy situations.
Siesta Text costs $2.99 and is available from the BlackBerry App World.
References
"Threaded SMS for BlackBerry", https://www.getempower.com/blackberry-threaded-sms-viewer.php
"Hive Mind Technologies – Ditto", https://www.hivemindtech.com/main/index
"BlackBerry App World – crunchSMS", https://appworld.blackberry.com/webstore/content/4736
"Siesta Text", https://appworld.blackberry.com/webstore/content/18056?lang=en