Popular social media channels such as Facebook© and Twitter© have taken the world by storm as more consumers and businesses are engaged in social activities online. As of this writing, over 500 million people have accounts on Facebook alone, and this number is growing. This means more web developers and graphic designers are busy creating eye-catching Facebook icons, buttons, emoticons and symbols to represent a social networking presence on the Internet and encourage people to become "followers."
In addition to symbols used on websites and blogs, Facebook account holders use fun symbols on their profile pages and embedded within messages as a form of self expression. Smiley faces and hearts in .alt file format are among the most popular Facebook symbols. There are a wide range of free Facebook symbols and graphics available in .png, .gif, and vector graphic formats for use by web designers and do-it-yourself website owners.
Top 5 Collections of Facebook Symbols
Here is a list of the top five collections of Facebook symbols, which are free for anyone's use, based on the popularity of these websites. Before using the images, be sure to check with the specifications of each website to make sure that the images can be used for your particular purpose and are not subject to copyright. Remember, they are free for use but cannot be resold or used for financial gain.
Images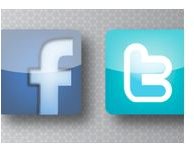 Button Shut
Button Shut is a simple-to-navigate website that includes Facebook buttons for use on websites and blogs. They are free to use and incorporate the most commonly accepted social media images, which can be attained by simply right-clicking and saving as a .gif, .png, or .jpeg image in a picture file on your computer.
Vecteezy
Vecteezy is a fun website with multiple free sheets of Facebook-friendly vector graphics and images which can be downloaded and used on websites and blogs. Images are searchable, and they have some nice collections of newly created Facebook symbols in .gif and .jpeg format. You can even choose color variations.
Think Design Blog
Think Design Blog has twenty free vector icons and Facebook symbols that social media users can get free of charge. These images are clean and come in some nice vibrant colors and formats that are easy to fit into any web design.
Blog Perfume
Blog Perfume has released a nice set of glossy round Facebook symbols that are unique, come in three customized sizes, and are easy to use. These free icons are a nice touch for websites and blogs as well as other marketing materials when combined with social media.
Facebook Alt Symbols
Facebook Alt Symbols has a large number of Facebook .alt symbols which can be used on Facebook profiles. This format is the only acceptable format that Facebook allows in terms of including symbols in social media posts.