Yahoo Web Analytics and Your Website: Free Real-Time Analytics Reporting Tool for Measuring Web Marketing Campaigns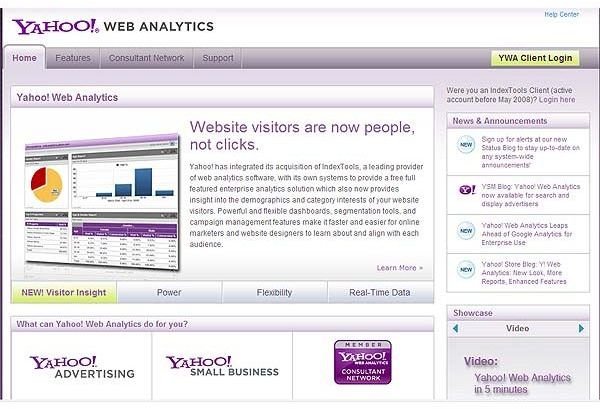 Who can use it?
As of April 2009, the tool is only available for small business and ecommerce customers who host their websites with Yahoo. Yahoo Web Analytics a rebranding of the fee based IndexTools. It was acquired in April 2008 and is now offered as a free service. Over a hundred types of reports are available that can be customized for specific requirements. Qualified users can login to their account online to access Yahoo! Analytics.
What it Does
Yahoo Web Analytics is a browser based tracking system that uses first party cookies to collect data. The cookie is then stored on a users computer for a year (unless deleted). To implement the tool, the user needs to determine what information they would like to be tracked. By using the simple drag and drop features with custom report wizards, specific reports and data filters can be selected. Once complete, it generates JavaScript tracking code that can be placed into the appropriate website pages and published. After implementation, tracking begins immediately. Reports can then be generated at any time within minutes.
Reports and Features
The Executive Analytic Dashboard is a feature to help with pay per click (PPC) web marketing campaigns. It can measure the cost per click (CPC), cost per impression (CPM), cost per acquisition (CPA) and return on investment (ROI). Another feature is Live Cost Analysis. It collects data from Yahoo, Google and MSN to compare search engine pricing information. It can then match your ROI to each paid search campaign by keyword.
Yahoo Web Analytics can also create other custom reports that can help companies monitor how online marketing campaigns are working and see how well specific products or content are performing. You can target specific items and customer referrals that contribute to the most profit. Monitor trends, purchasing transactions, customer navigation and frequency of their visits. Historical data collected can be used for monthly comparative reporting purposes.
The reporting tool works like a "drag and drop" application. This makes it very user friendly and easy to use. Built in reports are also included to assist you with customer demographics and visitor activity.
Unlike other reporting tools of this kind, the raw/real-time data collected by the tool is available for use. This allows you to have better current information to determine the performance of your website. No programming knowledge is necessary If the reports you create are not collecting the right information. You do not need to mess with the JavaScript code. It can be adjusted by using the program directly to change it and generate new code.