How to Install PostNuke Themes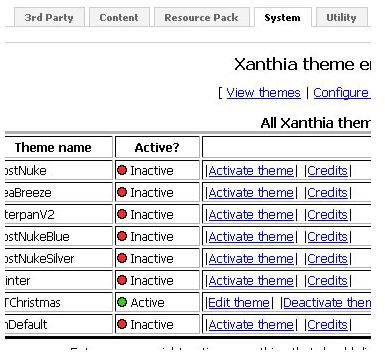 If you are using PostNuke as a CMS, chances are, you want to select your own theme to use. You can download and install new themes for PostNuke. You can search for PostNuke Themes or Xanthia Themes both results will return with themes for PostNuke. In this tutorial, I will show you how to install the new themes in PostNuke and activate them.
Installing PostNuke Themes
To begin, you will need to find the theme you want to use. Then download it to your computer and unzip it. Once you have it unzipped, you will need to open the program you upload files with. If you upload files through your c-panel, you will need to login to your c-panel.
You will need to locate the folder you unzipped. You will then need to upload the folder to the PostNuke / Themes directory. Upload the entire folder to that directory. This may take a few minutes, depending on how large the theme is. I just uploaded a Christmas Theme for my PostNuke site and it took a good 20 minutes for it to upload. So, if it takes awhile, do not panic. The more files it has, the longer it will take. Once the folder has uploaded, you will need to go to your PostNuke Site.
Activating Your PostNuke Theme
Now, you will need to activate your PostNuke Theme. Go to your PostNuke site and login to your Admin Panel. In the Admin Panel, you will need to click the System tab at the top of the administrator section. Then you will need to click the Xanthia icon. It is located at the bottom of the admin section.
The section you are in now will list all the themes that are installed on your PostNuke site. Look for the theme you downloaded and installed. Next to the theme, you will need to click the Activate Theme link.
Once the theme is activated, the same page will be reloaded. Now you will see more options beside the theme. You can view your theme, edit your theme, deactivate your theme, and view the credits of the theme.
Once you activate one theme, you will need to deactivate it when you activate another. You can download as many themes as you want. You can try on as many themes as you want to see which one you want for your site. To deactivate a theme, simply click the Deactivate link beside the theme you want to Deactivate.