Analyze Your Site With Clickdensity

Clickdensity is a usability toolkit that analyzes your site's traffic. You can invisibly track all the clicks made on your site, to determine what's popular and what's not. Web analysis tools come a dime a dozen, but Clickdensity surpasses its competition in a couple of areas. First, the service is self-hosted. Second and most important, it's very easy to use, which is nice for the non-techies out there.
Because Clickdensity is self-hosted, you don't have to worry about downloading and installing software. After signing up, you'll get about 5 lines of javascript cope to paste into your site's html. Don't worry, instructions are included, and there's lots of help if you get lost. The process will take less than 10 minutes, and you're ready to start tracking.
The ease of use is what allows Clickdensity to stand out from the rest. You are able to set up shop quickly.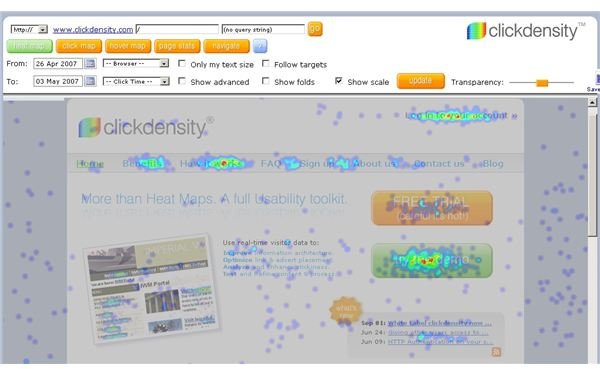 Clickdensity creates a visual heatmap of clicks on your site. You can determine which parts of your website are getting your target audience, and which are falling flat. This helps you hone in on what you're getting right, so that you can do more of it. Although many web analysis tools tell you what's popular, seeing a visual heatmap is infinitely better. The heatmap overlays the webpage, and you can see the concentration of clicks in varying degrees of color.
Clickdensity works on an XY coordinate grid. If a visitor's clicks are off-centered from a link, you can deduce that your site isn't maximized for their viewing, and optimize it accordingly. This one of the great options Clickdensity gives you.
Are you worried that your visitors will see you watching them? They won't be able to tell a thing. Clickdensity operates in the shadows, invisibly tracking clicks. If you have a secure portion of your site, and are worried about how this tool will interact, Clickdensity promises that no personal or sensitive data is recorded. You'll need to get a specific javascript for the pages in your site that are secure.
Clickdensity offers a 15 day free trial for you to check out what they provide.
Other tidbits:
Clickdensity has been tested on Internet Explorer and FireFox browsers.
It does not work in websites with frames.