The Last Account Activity in Gmail

Gmail account users have the option to view their last account activity when they log in to the Gmail website. This option was created by Google to allow their customers to verify that they are the only person who has access to the e-mail account. You will find your Last Account Activity at the bottom of any Gmail pages.
The Last Account Activity in Gmail is a useful security and privacy feature so you'll know if there's unauthorized access to your Gmail account by another person or malware trying to steal your identity by sending e-mail to your contacts.
Details of Your Recent Activity in Gmail
When you click "Details" beside the Last account activity line at the bottom of a Gmail page, you will be presented with information that you should often verify.

The Details of Gmail's Recent Activity:
An alert or status of your Gmail sessions – You should see the status of your account activity such as "This account does not seem to be open in any other location. However, there may be sessions that have not been signed out." This alert means your Gmail account is not currently being accessed in another location other than your current location. If you just used your account using a POP or IMAP e-mail client but have not closed the program, you might want to sign out all other sessions. When you click "Sign out all other sessions", you should see a message "Successfully signed out all other sessions. Note: Users can log in again if they know your password or have it saved on their computer. If you are concerned about someone using your account without your permission, please change your password."
Access type – Gmail will log the information on how you accessed your e-mail account such as using a browser, a mobile phone or using an e-mail client via a Gmail POP3 server.
Location – The country and IP address where you accessed your Gmail account is shown in the activity log. Note the country or IP addresses that you do not recognize and immediately change your password, if you suspect that there is unauthorized access to your account. Note that if you are using third-party social networking site or services that will fetch your Gmail messages, you should ensure that your social networking account is securely configured. If your social networking account is compromised, your Gmail account might be stolen or used by bad guys. I highly recommend to not allow fetching your e-mail accounts using a third-party unless you really trust the service.
Date and Time – The last column of the recent activity in Gmail logs the time and date you've accessed your Gmail account.
Alert preference – Choose whether Gmail pages will show the alert of your recent activity using Gmail or hide the last accessed details in Gmail.
Image Credits: Gmail logo from https://mail.google.com. Screenshots taken by Donna Buenaventura
How to Hide the Last Accessed Details in Gmail
Some users of Gmail prefer to turn off the Last Account Activity feature because they are receiving frequent alerts that their Gmail account has been accessed without their knowledge. The frequent alert on Gmail's recent activity occurs if the user is frequently travelling or using a mobile phone to access their Gmail messages. This is because the new IP address or location is detected by Gmail and since the said feature was designed to secure your account and privacy, you will be getting frequent alerts when your mobile phone is currently roaming in other networks with another IP address.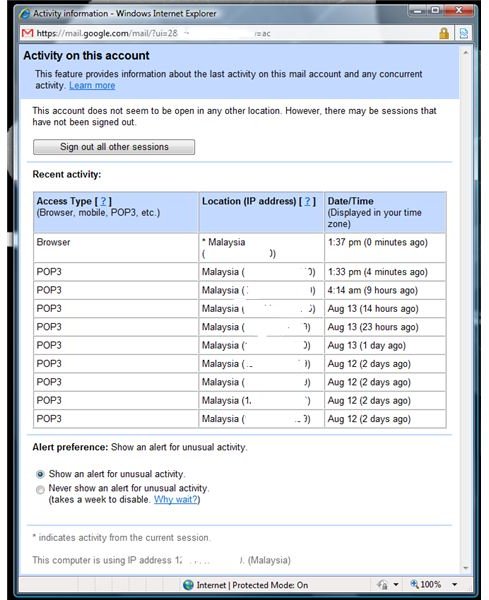 To hide the last accessed details in Gmail, simply select "Never show an alert for unusual activity" in the Details window of your last account activity. Google says it might take a week to disable the said alert to ensure that it's not another person or bad guys who turned the feature off.
What To Do If Your Account Has Been Accessed by Another User?
If another person has accessed your Gmail account and you still have access to Gmail, immediately change your password. If the IP addresses in the recent activity are yours but your Gmail account is sending out unwanted or infected e-mails to other people or to your contacts, change your password and run a scan on your computer for malware. Trojans, keyloggers or other type of malware can use your e-mail account once compromised. Scan the computer using any of the following:
If you rather use online or portable scanners, give the following a try:
If you no longer have access to your Gmail account, recover your password by going to My account has been compromised page in Google.
Image Credits: Screenshots taken by Donna Buenaventura