Google Videos: Overview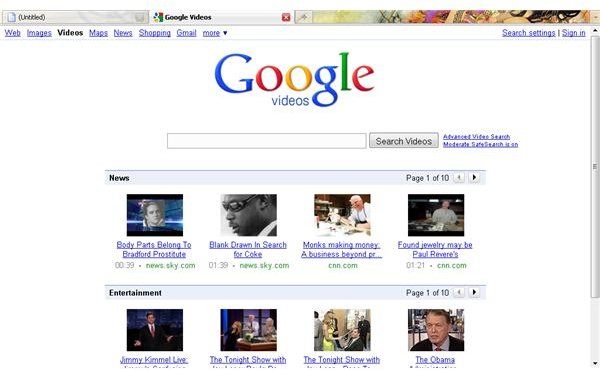 Google Videos is a video sharing and video search engine service that allows users to watch videos, as well as embed them on their blogs and websites for free. Besides videos from YouTube and Google, users can also search for video sites such as Vimeo, Biku, Yahoo! Video, Metacafe and many more. They can also capture Google video in Mp4 and FLV formats using third-party software or from Google itself.
Ever since its launch in January 2005, Google Videos has undergone several changes. It was actually launched as an online video archive, but gradually changed itself to a search engine for videos. Now, the Google Videos search engine also allows users to search for video sharing websites other than YouTube videos from Google. There was a time when videos could be uploaded via its web servers, but the service was stopped in 2009. While the upload feature is no longer available, the download option is available for users. However, most of them don't know how to capture Google Video using web browser plug-ins. Here's a step-by-step tutorial on downloading videos from Google:
How to Download from Google Video Search
The Flash Video (.flv) format is one of the most popular video formats on the Internet and is used by Google Video, YouTube, and Metacafe to help stream online videos quickly. While people know how to download videos from YouTube, they search for software to download Google Videos.
"Web Video Downloader" is one of the best tools available for downloading Google Videos in Flash Video format. Here's an in-depth tutorial on using Web Video Downloader to download videos uploaded to Google Videos:
1. Download Web Video Downloader. You need to have a Firefox browser because this tool works as a Firefox extension for downloading videos in FLV format.
2. On your browser, enter https://videos.google.com and click on the Go button. Type in the name of the video on the search box, for example "Neil Armstrong landing on the moon", and click on the Search button. You will see a list of video sharing sites showing the exclusive Armstrong's first moon landing video footage:
Note: Please click on the screenshots to get an enlarged view.

3. To see the list of only Google videos, you will have to click on the google.com link in the Any Source section. This section is located on your left hand side, just below the Sorted by Relevance and All Videos Section.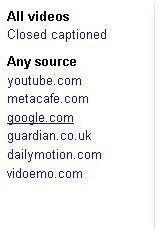 4. Click on the video link to watch the video. To download the video, click on the Web Video Downloader plug-in located beside the Address box.

5. Then, click on the video URL (see the screenshot below)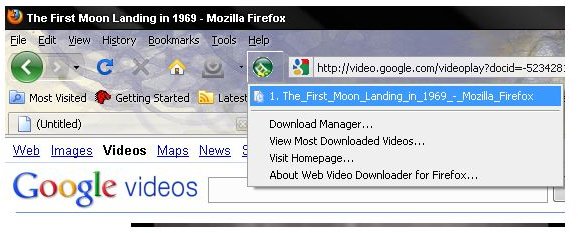 6. A new window will open up, showing the file format (Flash Video), the size of the flv file and the URL of the video. Select the location in your hard drive to save the file and click OK to capture Google Video.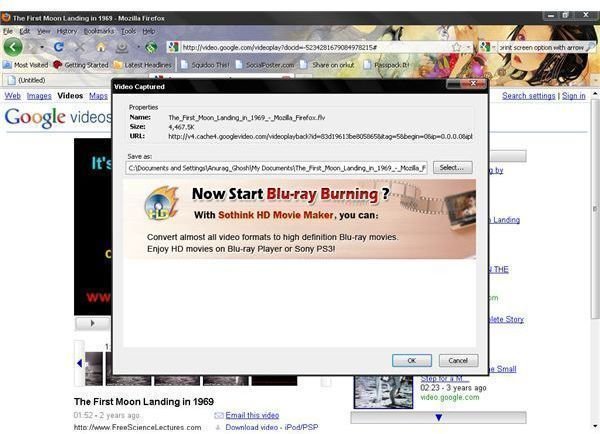 7. You will then notice a new browser window showing the video download in progress bar. Short duration video clips will be quickly captured whereas long duration video clips will take some time to download.

After the video download gets completed, you can watch the video file using any FLV player. The Web Video Downloader tool comes with a free FLV player, so there's no need to download any video player separately. This software can also used for YouTube videos. Just follow steps 4 and 5 after opening the YouTube video.