Using Google Sync on Your BlackBerry
If you have a BlackBerry, there is a chance that you may not be able to find as many applications for your phone as with the iPhone. But, technology is catching up as the number of BlackBerry users rise. And, the BlackBerry mobile device has had so much high profile endorsements from a variety of celebrities, including President Barack Obama.
For example, now, you can even sync your BlackBerry calendar with your Google Calendar. You can use your Google Calendar on your Blackberry via Google Sync. Google Sync allows BlackBerry phone users the ability to set or delete appointments from your phone, and it will update your Google Calendar whether or not you have service in the area. And, your Google Calendar will remain synced whether or not you change items on your PC or your phone itself. Plus, you can choose from a sound or vibration to alert you to an upcoming appointment.
How to Add Google Sync to Your BlackBerry
The first thing that you need to do to get started syncing your BlackBerry with your Google Calendar is to download Google Sync. To download Google Sync, you need one of the below operating systems (OS) or versions of Outlook.
Microsoft Outlook Versions 2003 and 2007.
Windows XP
Windows Vista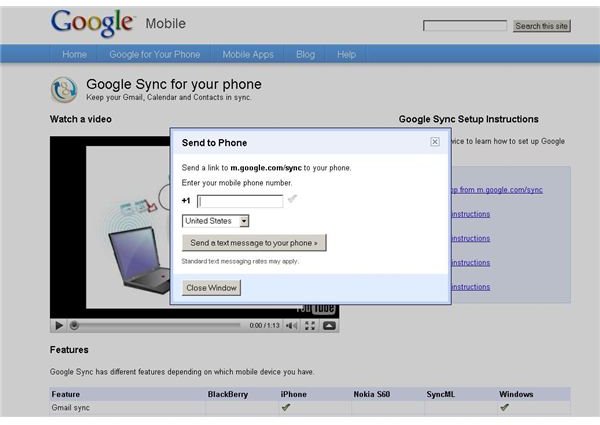 Google Sync is not compatible with Windows XP 64-bit, and it will not work if you using a third-party software to sync your Google Calendar and Outlook. If you do have a third-party software, you will have to disable that software before downloading Google Sync. To learn how to disable this third-party software, click here: https://www.google.com/support/calendar/bin/answer.py?answer=98565.
Once you have confirmed that your BlackBerry is compatible with Google Sync, follow the below procedures in order to get started.
Accept the Terms of Service.
Follow the directions for installation.
Select the correct sync option for your device.
Select the appropriate time interval.
How to Sync Your Google Calendar and BlackBerry Calendar
With the Google Calendar Sync, you have three options for syncing. These include the following:
1-Way Sync (Google to Outlook): This syncs all of your appointments in your Google Calendar with your default Outlook calendar. While anything that you add to your Google Calendar will be added to your Microsoft Outlook calendar, any changes that you make to your Outlook calendar will not be added to your Google Calendar.
1-Way Sync (Outlook to Google): This is basically the above procedure in reverse. All appointments that you make in your Microsoft Outlook calendar will be added to your Google calendar. But, any events that you add to your Google calendar will not be added to your Outlook calendar.
2-way sync (Best Option): This will update all your changes to your appointments no matter which calendar that you used. If you sync your calendar on Google, it will update your Outlook calendar and vice versa. If you change a single event on both calendars, only the most recent update will be reflected in both calendars.
It should be noted that these calendars sync all events. You cannot currently select and sync a specific time frame, i.e. week, month or year.