Customize your maps with Google Maps and add customized features to your map.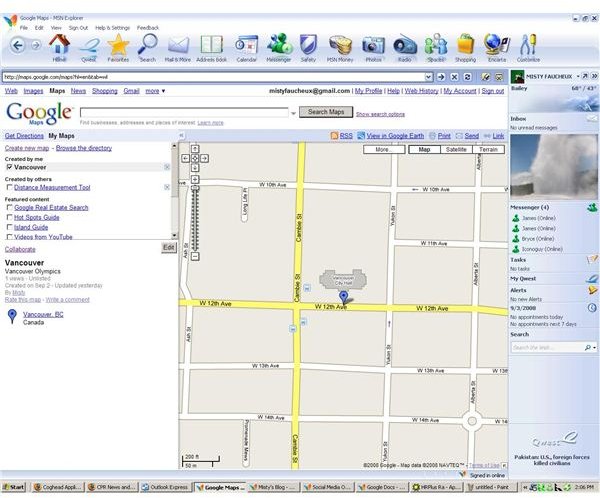 Customize Your Maps
Many people strictly use Google for conducting research or perhaps obtaining the location or direction of a specific place. But, there is more to Google than just doing research and getting driving directions. You can create your own personalized map of an area by using the My Maps feature in Google Maps. The Google Maps feature has been rapidly expanding. New locations and new information is being added daily.
In this section, you can find information about the weather of your selected area, find the distance between your home and your vacation spot, or even use the "Hot Spots Guide" to find recommendations for restaurants and other things to do. You must be signed in or create a Google account to save your maps.
How to Use Google Maps
To access My Maps, go to Google Maps, and do the following steps.
1. Click My Maps.
2. Click Create New Map.
3. Add a Title to your map.
4. Add a Description.
5. Click public (if you wish others to see it) or private (if you do not wish to share it).
6. Add Featured Content (depending on what else you would like to see on your map).
Google Maps also gives you the option to upload your own map and view it there.
In this section, you can also print your map by going to the Print icon in the upper right-hand corner. But, you can also send the link to a friend or family member, which can be helpful if you're planning a trip with several people or need to send somebody directions to your house.
To send your map to the others, follow the below directions.
1. Click the Send icon in the upper-right hand corner.
2. Type in the E-mail addresses of your selected recipients.
3. Type in your E-mail address.
4. Check whether or not you would like a copy sent to you.
5. Press Send at the bottom.
You can write comments on your map and have others write comments and rate your map if it's public.
Customized Maps