Introduction
Basically, there are three things that you can do with Google Groups – discuss online or over email, create rich, custom pages, customize your look and graphics.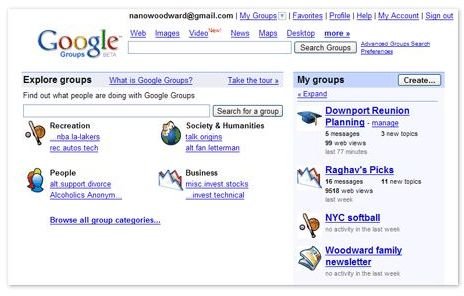 How to Make the Most Out of Google Groups' Discussion Features?
Before Facebook, MySpace and Twitter became famous as social communication tools, internet citizens obably used emal list groups, mailing lists or web groups such as Google Groups. Google Groups is a social communication tool minus the fanfare and other advance features of social networks.
It's a straight out online communication tool where members post a question which anyone in the group can answer, elaborate and discuss issues which can be subject specific to the theme of the group or general issues if a group is of general nature.
So as a discussion point, you can maximize Google Groups to generate ideas, solicit blog topics, get opinions and survey the consensus of the group. Any active Google Group is a melting pot for bright ideas. Nothing can be more valuable than that.
Using Google Groups as a Group Home Page
Not very popular to many is the fact that Google Groups can be made into a website. If you're creating a Google Group for your club or association, you can use Google Groups to build not just a mailing/discussion list but a homepage for your group. You can put related documents and other information that you want to publish online. In other words, you can use Google Groups to build a knowledge base which your members can use. You can also customize the look and overall theme of your Google Groups home page to make it more like a traditional website.
Using Google Groups as an Online Community Site
Not only can you use Google Groups to upload and share files and other documents with other members you can also allow your members to create their personal profiles. Google Groups is a great tool to build your online reputation and be known by other based on what your skills and capabilities are.
Conclusion
These are just some of the ways by which you can make full use and make the most out of Google Groups. Google Groups is a great social communication and collaboration tool that is just waiting to be tapped and be fully utilized. If you haven't done so yet, you might want to search for useful Google Groups that you can join in or create your own Google Groups for your club or organization.