Google Calendar Quick Add Tips: Specify Which Calendar, Date, and Time to Add Events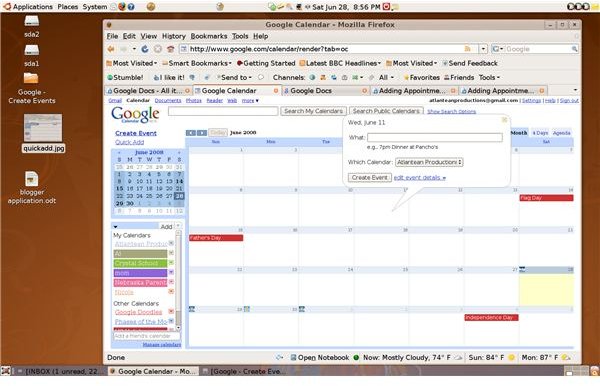 Using Quick Add to Add Events
If you're looking for a fast and easy way to add appointments or events to your Google Calendar, the Quick Add form fits the bill perfectly. There are no long forms to fill in, no reminders to set, no menus to contend with, you don't even have to wait for a new page to load. You just click and type. Deleting appointments is just as easy. Click on the appointment, and hit delete.
It's really that simple.
There are a few ways to use the Quick Add feature.
Click the Quick Add link at the top left of your screen. You'll find it just below the Create Event link.  Type the title, date and time of your appointment in the box provided, and hit enter. Example: Dinner with kids Tuesday 6pm-9pm. Keep in mind, if you're in Month view, Google Calendar will schedule the example for the first Tuesday of that month. So, you may need to specify the exact date.
From monthly view, double click the date for which you'd like to add the event. Type in your event details using the same rules above. With this method, you can also designate which calendar the event is added to. If you want to set reminders or send invitations click edit even details.  When you're finished, click Create Event.
From day, week or 4 day views, you can double click directly on the time you'd like to add the event. A bubble will pop up, just like the one shown in the figures below. Enter your event title, specify calendar and click Create Event. From this view, you can also click the edit event details to create invitations or set reminders.
In the event you need to delete an appointment, click on the event in any calendar view. A bubble pops up that allows you to edit event details or delete the event.
Figures