An Overview of Dogpile
Dogpile is a search engine created by a company called InfoSpace. Some people may question the relevance of yet another search engine while there are much popular search engines like Google, Yahoo! Search, Bing, Ask.com and others, but they might not realize that Dogpile is a unique type of search engine called a "meta search." This means that it searches multiple search engines with just one query, giving users the best possible assortment of results.
A Dogpile audio search is just one way this powerful Web site makes it easy for users to find the music and other sound files for which they are looking. .
Visiting Dogpile
Visitors to Dogpile.com's home page will notice its looks like a traditional search engine, with a prominently displayed search field surrounded by a variety of options. Entering your text into the search field and pressing the "Go Fetch" button will fetch your search results.
Tabs above the search field allow a user to define the type of search being conducted. "Audio" is not listed as an option here, but users can go directly to the Dogpile Audio Search page at https://www.dogpile.com/audio/search if they want to.
Tip #1: Don't Use the Dogpile Audio Search Page

The Dogpile Audio Search page at https://www.dogpile.com/audio/search does not seem to work. Users can enter in all types of music names, titles, and artists, and nothing will ever come up (view the image to the left to see the results from searching "Beethoven").
Because of this, visitors to Dogpile may want to consider using the "Web" or "Video" tab above the search field to conduct their audio search.
Tip #1: Advanced Search Options
Dogpile has an "Advanced Search" that works similar to Google's. Clicking on it opens a small window that allows users to enter our particular search criteria. Options such as "All of these words," "The exact phrase," "Any of these words," and "None of these words" help users narrow down their search results.
Of course, these text boxes are optional and users should only fill in the ones that are relevant to their search. Additionally, there is another option to choose a different language. Users can select "Any Language," Danish, Dutch, French, German, Italian, Portuguese, Spanish and Swedish (as well as English).
Another feature of the Advanced Search allows users to include or exclude domain and space to enter particular domain name if desired. Once all the criteria is entered, click the "Go Fetch button" to see the results from the Dogpile audio search.
Tip #2: The Search Filter
Dogpile will allow users to enable a search filter that screens out adult, mature, and other potentially offensive content. This is found by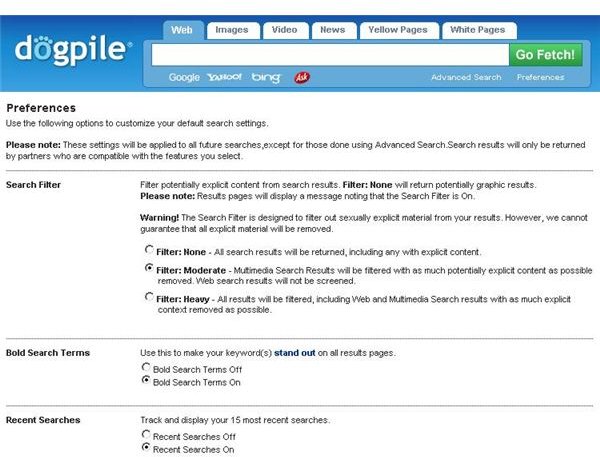 clicking the "Preferences" link. The options are as follows:
"Filter: None" will return results including any explicit content.
"Filter: Moderate" will filter much potentially explicit content and web search results will not be screened.
"Filter: Heavy" filters all results, including web and multimedia results with as much explicit content removed as possible.
Other options on the "Preferences" screen allow users to decide to have search terms displayed in bold within the search results.
Tip #3: Browser Integration
Finally, let's look at some more tips and tricks to make Dogpile audio search faster and more efficient. In the main window of Dogpile, there is an "Add Dogpile To Your Browser" option that will allow users to access Dogpile directly from their Web browser using a browser toolbar.
The "Make Dogpile Your Home Page" will make the browser load Dogpile as its default page every time it starts.
"Bookmark and Share" options enable the browser to save favorites and allow them to be shared with other people and computers.
The tabs on the main Dogpile screen include "News," "Yellow Pages," "White Pages," and other options for customizing searches. In fact, visitors to Dogpile might find that their audio search works better from the main window than it does from the Dogpile Audio Search Window.
Wrapping it Up
Dogpile audio search is just one part of the Dogpile meta search engine that helps users find music and other sound files faster and easier than ever before.