Prevent Biodiversity Loss By Planting Indigenous or Heirloom Plants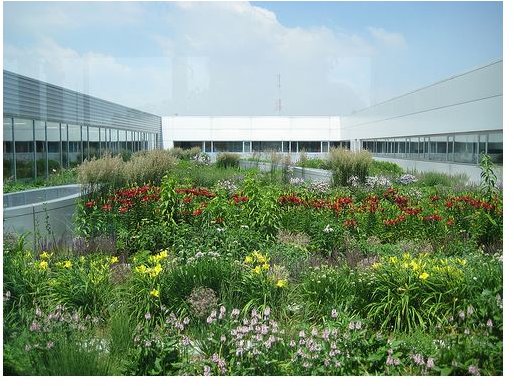 If you live in the city or an apartment and you think you don't have room for a vegetable, herb or flower garden – think again! Look up to the roof. Creating a roof garden is not hard. It's great for those who have limited space. It simply requires a little forethought and planning, a few materials, plants or seeds, dirt (or growing medium), fertilizer, sun, water and containers to plant in. Creating an organic roof garden is a great way to contribute to biodiversity by doing your part to preserve indigenous plants and species. Whenever possible, choose heirloom (open pollinated) varieties of plants so they will be preserved for future generations. You can create an eco-friendly habitat for butterflies, pollinators, birds and frogs in your gardens, free of pesticides and man-made fertilizers. The rapid global decline of pollinators, and of plants and species in general makes every organic garden important.
Pointers To Make A Roof Garden
Ensure that your roof is strong enough to support the garden before you begin. Soil, plants, fruit and vegetables can be quite heavy.

Usually, along the sides of the roof will be the strongest area and that is where you want to put your plants.

You are going to need a source of water. Rain barrels or some type of rainwater recycling system is a very good idea. That way, you won't have to lug water up to the roof to water your gardens.

Decide whether you will have a container garden or a raised bed garden. Raised beds don't necessarily have to be on the floor, you can raise them up on stilts or even put a raised bed up on top of existing sturdy tables.

If you're going to have raised beds, you will need either the ready-made kits that are easy to purchase online or at your local nursery, or you will need to construct your own. Simply choose boards that are about one foot high by four to six feet long. The ends of the bed should be no longer than four feet wide. That is so you can get around it easier and reach all of your plants from any side. The bottom of your beds can be wood. When choosing your wood, be sure to get non-treated boards because you don't want it to leech into your soil and vegetables.

Most any type of wood can be used. You could also use hard plastic to construct your beds. Containers should have a hole in the bottom so water can drain out well.

If you follow the principles of Square Foot Gardening as laid out by Mel Bartholomew in his famous book of the same name, then you will use one-foot grids on top of your beds and a particular system of planting. Square foot gardening grows more vegetables per square foot, requires less water, less maintenance and less soil than conventional gardens. This is one way to ensure a bountiful harvest even in the smallest of spaces.

Incorporate vertical gardening techniques wherever you can. Cucumbers, beans and other vining plants can be trained up a trellis or fence. Tomatoes can be trained to go upward rather than sprawling all over the floor. Use tomato cages, tee-pee staking and regular stakes to accomplish upward growth patterns. A trellis placed at an incline in front of watermelons, cantaloupes and cucumbers will make these running plants climb upward and off the floor.

Your fruit will hang down below the trellis.

Consider the exposure of your plants to wind, the elements and extreme heat. Heat radiates from the roof and the temperature on the roof will be 5C higher than ground level. If you have strong winds from the Northeast, you may need to install some sort of wind break to protect your garden. If you have extreme heat, think of ways to lower the temperature (by creating shade) or choose only heat-tolerant plants.

Check with your local government before you begin to make sure that you are within zoning restrictions to install a roof garden.

Line your garden beds and plant containers so they will retain water but also have proper drainage. Lastly, choose a lightweight planting medium.

You will need to plant your vegetables, herbs and flowers just as you would plant a regular garden. Plants that grow very tall should not be placed beside small plants that need a lot of sunlight because they will be overshadowed. Spend some time thinking about it and draw yourself a planting diagram before you start.
A Roof Garden is Eco-Friendly
Your roof garden can be simple or fancy – the choice is yours. It can be an oasis of beauty for you to enjoy in spring, summer, winter and fall if you plant to have something of interest in every season. You can also prevent biodiversity loss and help save the environment with your garden. Preserve every variety of heirloom seeds and indigenous plants that you can comfortably maintain. You can provide a habitat that is eco-friendly for animals, insects, plants and humans, without compromising on beauty and yield.