Many mega complexes such as the Las Vegas City center, Chicago Spire, Frasers Broadway, Dubai Rotating Towers, China's Habitat 2020, and others have set the trend of incorporating a host of sustainable energy solutions based on all available technologies, in order to achieve carbon neutrality. A noteworthy common denominator among such green mega complexes is the integration of aesthetics and renewable energy capture.
Las Vegas City Center
The new Las Vegas City Center, touted as a model of sustainability ranks among the few completed futuristic mega complexes. This complex has attained six Leadership in Energy and Environmental Design (LEED) Gold certifications for incorporation of green technology in a big way.
The innovative green building practices adopted in Las Vegas City Center include:
recycling of more than 80 percent of the construction waste, and using recycled materials for construction purposes
donation of 82 tons of used wood to the local carpenters apprenticeship training center
training over 10,000 construction tradesmen on green building practices
implementation of a storm water pollution prevention plan and dust control plan to mitigate and manage pollution during the construction phase
incorporation of an onsite co-generation power plant
using environmentally friendly materials in construction, such as fly ash in place of cement and low emitting materials
extensive use of bio-diesel instead of fossil fuel power in construction
greater emphasis on natural light in the design
Chicago Spire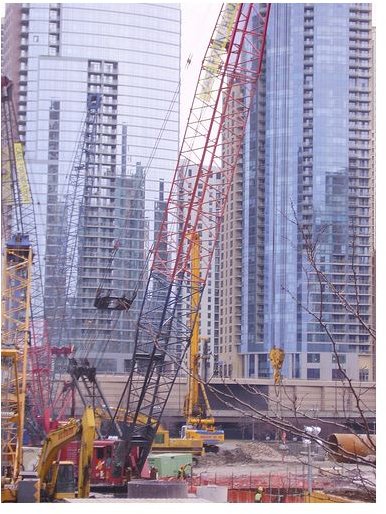 The 2000 ft. Chicago Spire is North Americas' tallest freestanding structure, and poised to become the world's tallest purely residential building when completed.
The Chicago Spire has a unique seven-sided design that mimics the natural form of a nautilus shell. People have also labeled it as a giant "drill bit," a "tall twisting tree" and a "blade of grass." Each level rotates an average 2.44 degrees between floor plates, giving the structure a distinctive fluid appearance.
The Spire plans to incorporate the latest sustainable engineering practices to attain an LEED Gold rating. The proposed sustainable features include
use of river water based geothermal cooling systems
use of ornithological sensitive glass to protect migratory birds
intelligent building and management systems aimed at automating and optimizing lighting, heating, ventilation, filtration, climate control and other facilities
recycling of waste
rainwater recycling
monitored outdoor air delivery
Image Credit: flickr.com/chascarper
Frasers Broadway
The 250,000 square meter Frasers Broadway at Sydney, an upcoming commercial, residential, and retail complex is poised to become Australia's most sustainable green building. The project aims to become one of Sydney's "Green Transformers." The green features in Frasers Broadway include:
gas-powered co-generation electricity plant
wastewater recycling plant
smart metering
solar power lighting
A second Frasers' complex proposed at Singapore City is poised to harvest solar energy in a big way by
covering exterior walls with solar cells
placing tall ribbon-like canopies that rise into the skyline
A slanted façade design caters to increased wind flow into the building, providing a natural cooling effect. The incorporation of vertical green spaces aims at ambient temperature moderation.
A rainwater harvesting system, geothermal heating, chilled beams, and an ice storage system for cooling are the other green technology features proposed for this project.
Dubai Rotating Towers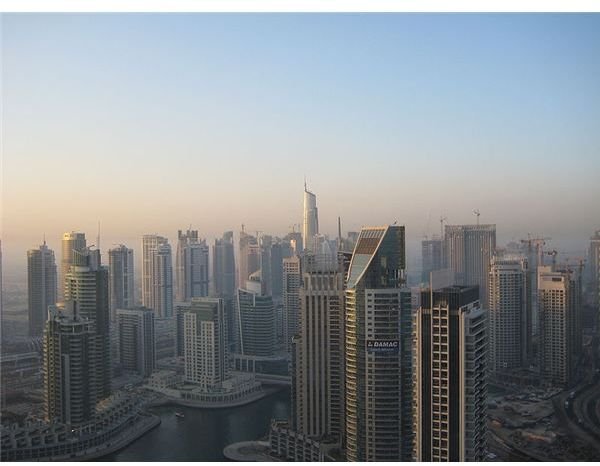 Dubai's planned Rotating Tower, also known as the Dynamic Tower or the Da Vinci Tower, is noteworthy for many reasons, such as:
an innovative segmented tower design that allow each floor to turn independently using voice recognition technology
stacking platters on the central concrete core, and placing wind turbines between platters
placing solar panels on the roof and the top of each floor that harness solar rays when the individual floors rotate independently
The wind turbines and solar panels together would generate 1,200,000 kilowatt-hours of energy that would not only provide energy self-sufficiency for the building, but would also power five smaller buildings in the vicinity.
Image Credit: Wikimedia Commons/Jay Tamboli
China's Habitat 2020
China Habitat 2020, a sustainable housing project, aims to herald green building technology environmental initiatives to China in a big way.
Habitat 2020 epitomizes biomimetic architecture that adopts basic cellular functions to create structures that operate like natural organisms.
Building materials, especially the walls, hitherto have served only shielding purposes. Habitat 2020 is set to change this and incorporate an active membrane between the exterior and interior walls. This membrane would absorb air, water, and light from outside, filter or process it, and provide clean filtered water, natural air conditioning, and electricity to the building. In the reverse direction, the membrane funnel would emit clean CO2-free air. The waste resultant from these operations would be converted to biogas energy.
Conclusion
Kuwait's proposed 1.2 million square foot Sabah Al Ahmed International Finance Center tops the other noteworthy self sustaining zero carbon emission buildings. This tower aims at LEED certification and plans for a photovoltaic system and wind turbines in the roof to generate its own electricity.
Existing green buildings with a photovoltaic system and rooftop wind turbines save 10 to 25 percent of energy compared to non-green building. The mega complexes described above set the trend for zero carbon emission buildings, sustainable on their own without depending on any external grid.
References