Best Earth Friendly Dishwashing Soap: Review of Lifetree Citrus Fresh Dish Soap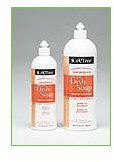 After using countless brands of earth friendly dishwashing soap, Lifetree Citrus Fresh Dish Soap is my favorite. The Lifetree website offers the dish soap in three sizes, a 16 ounce size for $5.99, 32 ounces for $10.65, or a gallon jug for $31.45. To cut down on packaging waste, I buy the gallon size to refill my 16 ounce squeeze container.
Like all Lifetree cleaning products, the dish soap is phosphate-free, biodegradable, made from plant-derived surfactants, and scented with botanically derived fragrance. No animal ingredients are used and products are not tested on animals. Lifetree products are proudly made in the USA, eliminating the unnecessary fuel consumption associated with worldwide shipping. The products' packaging can be easily recycled with your number 2 plastics.
Lifetree Citrus Fresh Dish Soap (5 out of 5)
In my experience, I have found that Lifetree Citrus Fresh Dish Soap can truly rival conventional brands in cleaning power. This earth friendly dish soap is concentrated to decrease packaging waste. Consequently, just a small squeeze of the soap suds up quickly and effectively washes a sinkful of dishes.The dish soap's added aloe and calendula extracts protect your hands from over-drying while you wash.
For a typical sinkful of dirty dishes, I add a small squirt of soap to hot water and let the dishes soak while I do other kitchen cleaning chores. A few minutes later, my dishes are easy to clean. Dishes with stubborn, stuck on food soak a little longer, if necessary. Occasionally, when I get distracted and leave the dishes to soak long enough for the water to get cold, I find that the dishes wash easily and rinse without leaving a greasy feeling.
Overall, I am impressed with the cleaning power of this all-natural soap. I find that Lifetree Citrus Fresh Dish Soap is the most effective green dishwashing liquid on the market today. Other Lifetree products that I have used, including their premium laundry liquid, have also performed well. Lifetree also offers an all-purpose home soap, automatic dishwashing liquid, a fresh and natural bathroom cleaner and more. Products are available at many retail stores or through the Lifetree website.