Isn't it wonderful when your child discovers what they can create with crayons, markers, and paints? Their imagination and creativity blooms – but so does the gargantuan stash of kiddie art that they are so proud of. You can't possibly keep it all, yet it's heartbreaking to throw away (or even recycle). Instead, discover some easy and meaningful ways to reuse their artwork.
Wrapping Paper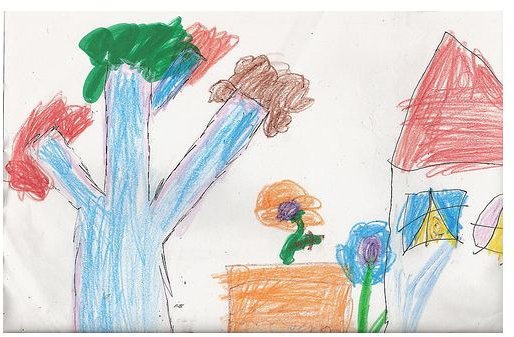 Children's artwork makes the perfect wrapping paper for gifts of all kinds. Use sketches and paintings for wrapping presents for events such as kids' birthday gifts, father's day, and grandma's birthday. The gift will be extra special wrapped in personalized paper!
Homemade Cards
Complete your gifts by creating cards from your child's art. Cut colorful paintings or drawings into card size rectangles and fold in half. Paste the designs onto a pieces of reused construction paper or cardstock if necessary, and write a personal note inside. Don't forget to make thank-you cards, too!
Cut and Paste and Mosaics
One art project can be the materials for another when you and your child cut shapes to use in a cut and paste creation. Cut shapes such as animals, trees, snowflakes, and other objects and let your child make a fun scene.
Older children may be interested in learning how to make a simple mosaic picture. Cut the artwork into small squares and arrange into piles sorted by color. Let your child experiment with the pieces to create a design or picture. Learn more about mosaic for kids here.
Decoupage
To decoupage is to decorate an object with small pieces of paper. Cut out extra special drawings, such as the first time your child wrote their name, and use the pieces to decoupage a keepsake box or other item. To learn more about the art of decoupage, including step-by-step instructions, see here.
Paper Dolls
Remember old-fashioned paper dolls? Discover this simple toy with your child by creating paper dolls from tagboard or cardboard, then fashioning clothes and accessories from colorful reused artwork. You can find a multitude of free online templates for creating your own paper dolls, including the ones found here.
Paper Mache
Paper mache creations are a blast for kids. Cut artwork into strips and use them to create pinatas, mask
Photo courtesy Flickr.com creative commons license:
https://www.flickr.com/photos/huffstutterrobertl/3624416497/